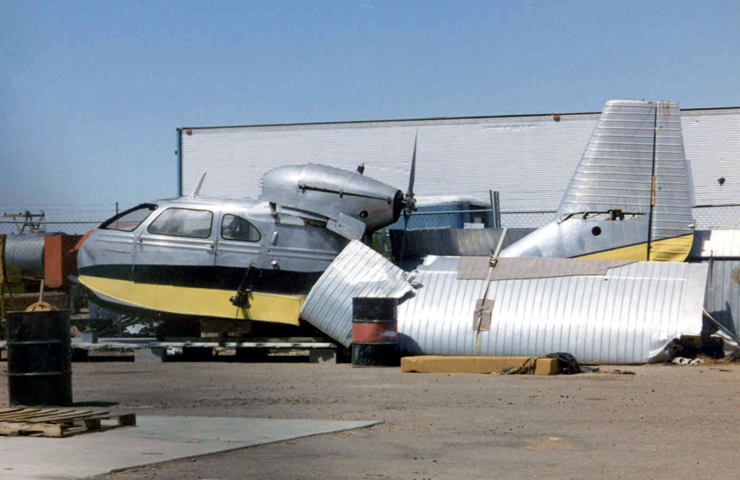 N6127K
T & G Aviation Memorial Airport, Chandler, Arizona, USA.
30 July 1997
Photo: © courtesy of Bill Word
AIRCRAFT DATA

Manufacturer:
Republic Aviation Corporation; Farmingdale, Long Island, New York, USA.
Model:
RC-3 Seabee
Type Certificate No:
A-769
Serial Number:
313
Manufacturing Date:
1947-01-??
Engine:
Franklin 6A8-215-B8F (215 HP at 2500 RPM)
Remarks:
Mode S codes: 51774603 / A7F983
Extended wings, extended spray rails.
Reg. No.
Date
Remarks
NC6127K
N6127K
1946-01-??
Manufacturing Date.
1947-01-??
Test flight.
1947-01-31
Officially delivered from Republic Aviation Company to Capitol Aircraft Sales; Clinton, Maryland.
1956-08-03
A/W Date.
1964-12-08
Art C. Angelos; 591 Slaters Lane, Apt. 1109, Alexandria, Virginia 22314.
1995-12-28
At 1600 central standard time, a Republic Seabee RC 3, N6127K, was substantially damaged while performing a forced landing near Whitewright, Texas. The aircraft was being operated by the owner, under Title 14 CFR Part 91. The flight originated from Tri-County Airport located near Whitewright, Texas, at approximately 1550. Visual meteorological conditions prevailed for the ferry flight and no flight plan was filed. The pilot had purchased the airplane near Atlanta, Georgia and was ferrying it to Chandler, Arizona.

The pilot reported he had a mechanic perform a pre-buy inspection before purchasing the airplane which included removal and inspection of the spark plugs. He had stopped at Tri-County Airport for fuel and oil (the airplane was using 1 1/4 quarts of oil per hour). Shortly after takeoff, the airplane's engine "stopped and then started up again." Soon after, the engine started to lose power again. During the ensuing forced landing on a road, the airplane impacted road signs and one wing separated from the fuselage.

Inspection of the airplane revealed that one spark plug on each of number 1, 4, 5, and 6 cylinders was "finger" tight. The second spark plug on the number 6 cylinder had completely separated from the cylinder. The inspection also revealed the engine was covered in oil. NTSB # FTW96LA081 .

1996-05-20
C of R issued to:
T & G Aviation Inc.; 22000 South Price Road, Chandler, AZ 85248-4600.
2010-03-29
C of R issued to:
Idaho State University; 850 South 9th Avenue, Pocatello, Idaho 83201.
2011-03-31
C of R Expiration Date. Not renewed by per 2014-01-03.
Sources:
RAC Seabee Delivery List.
FAA Registry.
IRSOC.
Richard W. Sanders.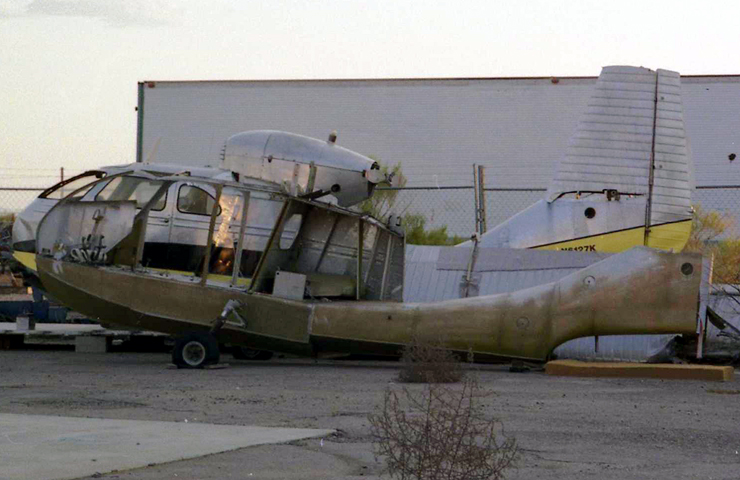 N6127K and unknown Seabee...
Chandler, Memorial Airport (34AZ), Arizona
25 July 2000
Photo: © Stewart Lanham