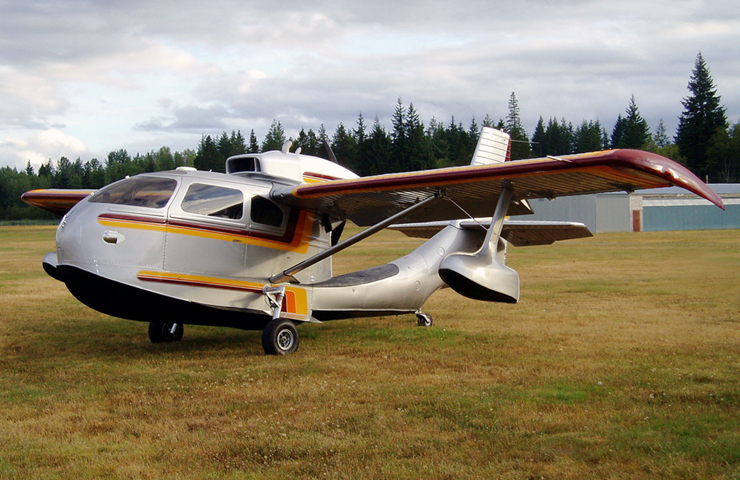 N6267K
Campbell River Airport, British Columbia, Canada
March 2011
Photo: © courtesy of Dirk Septer
AIRCRAFT DATA

Manufacturer:
Republic Aviation Corporation; Farmingdale, Long Island, New York, USA.
Model:
RC-3 Seabee
Type Certificate No:
A-769
Serial Number:
477
Manufacturing Date:
1947-03-??
Engine:
(1) Franklin 6A8-215-B9F (215 HP at 2500 RPM)
(2) Lycoming TIO-540-A2C (310 HP) direct drive
Remarks:
AIRFRAME

full IFR instrument panel
wide spray rails
gas heater
new tinted side windows and windshield
bow mounted anchor and line
vented step
quick detachable rear seat
large aft baggage area, aileron cables have been moved by STC for easy access
12 volt bilge pumps
24 volt electrical system
over head engine controls
Cessna seats and seat tracks
100 gallons of fuel, new 75 gallon bladder in 2001 and 2 stainless 12.5 gallon wing tanks
Cleveland brakes
flush fuel filler
steerable, locking tail wheel
electric rudder trim
standard length wings with droop tips
tail strobe..retractable landing light
electric and manual hydraulic system
dual controls
paint and interior a good 8/10

AVIONICS

Narco 811 plus digital comm
Narco AT 150 transponder with blind encoder
Narco 122 VOR/LOC/GS
Garmin GPSMAP 296

ENGINE

Lycoming direct drive TIO-540 A2C, 310 horsepower
This STC utilizes a manually controlled wastegate system operated by an electric servo and controlled by a rocker switch mounted on the throttle lever and wastegate position LED's illuminate on the instrument panel to show waste gate position
engine also has a turbo intercooler mounted in the side of the cowling as well as a remote spin on oil filter system.

PROP

3 bladed, compact hub, full reverse
60 hours since dismantle for cleaning, inspection and reseal
this system only utilizes a reversing block mounted under the governor and does not have all the monkey motion beta backup systems as installed on the geared engine installations.

Mode S codes: 52027736 / A82FDE.

Reg. No.
Date
Remarks
N6267K
1947-03-??
Manufacturing Date.
1947-03-??
Test flight.
1947-03-10
Officially delivered from Republic Aviation Corporation to Anderson Air Activities; Milwaukee, Wisconsin, USA.
????-??-??
John Greeff; PO Box 862, Yelm, Washington 98597, USA.
John Greeff passed away on 12 November 2007.
1994-12-28
C of R issued to:
Cy Heatherington; General Delivery, Manley Springs, Alaska 99756-9999.
1999-01-16
A/W Date.
2002-04-08
C of R issued to:
Classy Aircraft Inc.; 5260 Electra Avenue, Fairbanks DIV, Alaska 99709-4521.
2011-01-15
For sale at eBay. USD 115,000.00.
2011-08-01
C of R issued to:
Classy Aircraft Inc.; c/o J. B. L'Hirondelle, 1648 Davies Road, Victoria, British Columbia V9B 6E9, Canada.
2013-02-13
C of R issued to:
Seaplanes Inc.; 3511 Silverside Road STE # 105, Wilmington, Delaware 19810-4902.

Henry Ruzakowski; 2590 Airport Road, Marion, NC 28752-4591, USA.
Tel: 828-659-8601 (hangar)
Tel: 561-573-0668 (cell)
E-mail: stolseaplanes(at)yahoo.com

Sources:
RAC Seabee Delivery List.
FAA Registry.
Dirk Septer.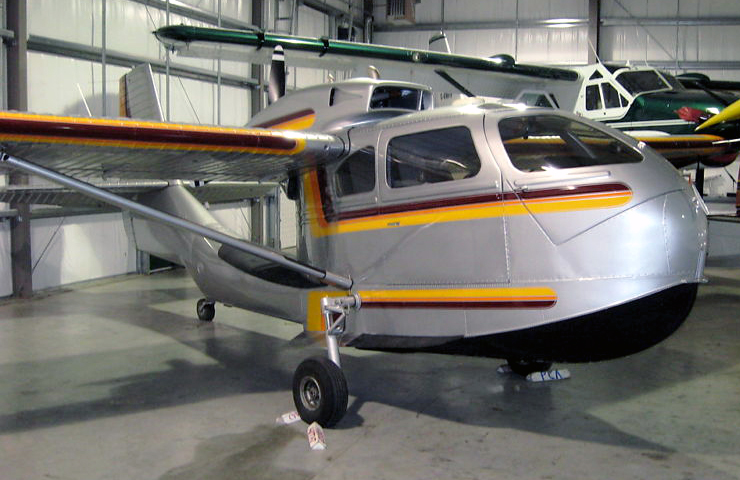 N6267K
North Saanich, British Columbia, Canada
January 2011
Photo: © Please tell me!