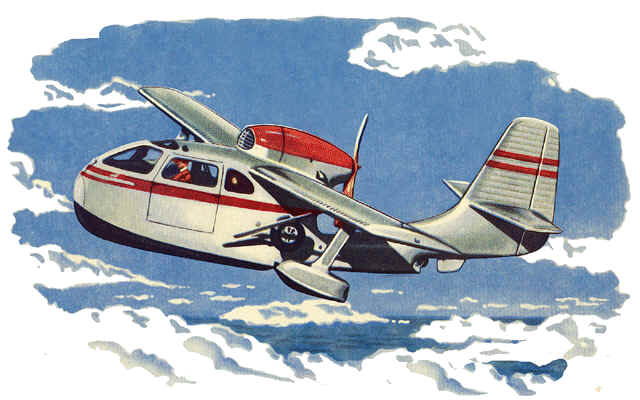 NC6382K
Photo: © Wanted!
AIRCRAFT DATA

Manufacturer:
Republic Aviation Corporation; Farmingdale, Long Island, New York, USA.
Model:
RC-3 Seabee
Type Certificate No:
A-769
Serial Number:
611
Manufacturing Date:
1947-04-??
Engine:
Franklin 6A8-215-B9F (215 HP at 2500 RPM)
Remarks:
Mode S codes: 52057034 / A85E1C
Reg. No.
Date
Remarks
NC6382K
1947-04-??
Manufacturing Date.
1947-04-??
Test flight.
1947-04-14
Officially delivered from Republic Aviation Corporation to Safair Flying School; New York, NY, USA.
1947-06-27
C of R issued to:
Bruno Chiarello; 61st Street 1006, North Bergen, NJ 07047.
1947-12-10
Hackensack River, Mill Creek, New Jersey, USA.

PILOT IN FATAL CRASH ACCUSED IN 2 DEATHS

SECAUCUS, N. J., Dec. 11 - Alexander Kahan, 29 years old, of 315 West Ninety-fourth Street, New York, pilot of a small seaplane, was arrested here early today on two police charges of vehicular manslaughter as the result of an aerial collision yesterday in which two men were killed.
The second plane involved, a four-seater Seabee, was being flown by Bruno Chiarello, 23, of North Bergen. He and Henry Leber, 65, the owner of the Seabee, plunged to death after the crash, which occurred about eighty feet above the Hackensack River, opposite Mill Creek. Kahan, who was flying an Aeronca, escaped with a bruised wrist. He is a student under the GI educational program at the North American Seaplane Base, Little Ferry, and has twenty hours of solo flying.
Mr. Leber operated an undertaking establishment in Union City and employed Mr. Chiarello, a former Army flier, as a pilot and as an assistant in his business.
The planes came together as the Seabee was taking off and the Aeronca was coming down. As the craft were moving in the same direction, witnesses told the Secaucus police, the Seabee's engine, high on the wing, locked momentarily with a pontoon of the Aeronca above it. After they separated the Seabee nose-dived and landed on its back in the water, and the Aeronca sideslipped and landed up-right.

[The New York Times; December 11, 1947]

1955-10-17

Cancelled from CAA Aircraft Register.

Sources:
RAC Seabee Delivery List.
FAA Aircraft Registry.
Barry Collman.
Matt Miller.