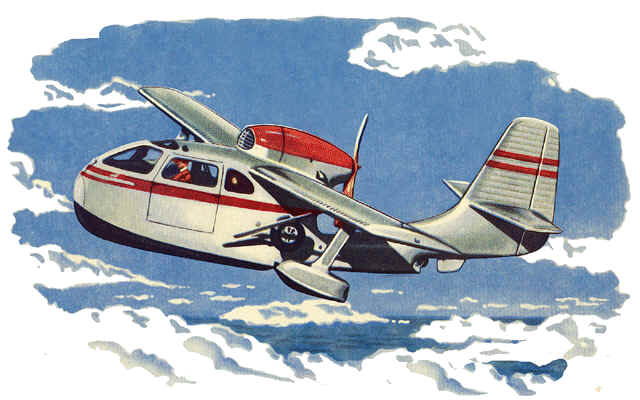 N6426K, N111TE, N2ZT
Photo: © Wanted!
AIRCRAFT DATA

Manufacturer:
Republic Aviation Corporation; Farmingdale, Long Island, New York, USA.
Model:
RC-3 Seabee
Type Certificate No:
A-769
Serial Number:
671
Manufacturing Date:
1947-04-??
Engine:
Franklin 6A8-215-B9F (215 HP at 2500 RPM)
Remarks:
Mode S codes: 50307642 / A18FA2.
Reg. No.
Date
Remarks
NC6426K
N6426K
1947-04-??
Manufacturing Date.
1947-04-??
Test flight.
1947-04-17
Officially delivered from Republic Aviation Corporation to Burke Aviation Corporation; Oklahoma City, Oklahoma, USA.
1962-07-05
A/W Date.
N111TE
1982-04-26
C of R issued to:
Timothy F. Egan; 485 Lakeview Drive, West Suffield, CT 06093.
1982-07-16
[N6426K] Southwick, Maine. During flight, the engine begun to run rough. The pilot attempted to correct the situation but the engine continued to operate at reduced power. He elected to land the amphibious plane in a field and extended the gear. However, the pilot saw that the aircraft would not clear trees, so he decided to land on a nearby lake. There was not enough time to retract the gear; therefore, during the landing, the plane flipped over. It continued to float, and later, it was turned to an upright position and towed out of the lake on its gear. The pilot stated that he had drained the sumps before the flight. After the accident, he drained about 5 ounces of fluid from the upper drain and about half of it was water. However, the water was found after the aircraft had floated upside down in the lake over night. Injuries: 1 Minor, 1 Uninjured. [NTSB Identification: NYC82DA156].
1992-07-20
Cancelled from FAA Registry?
N2ZT
2001-07-20
C of R issued to:
Sun Aviation Inc.; 3106 Cherokee Drive, Vero Beach, FL 32960-1919.
Sources:
RAC Seabee Delivery List.
FAA Aircraft Registry.
Barry Collman.