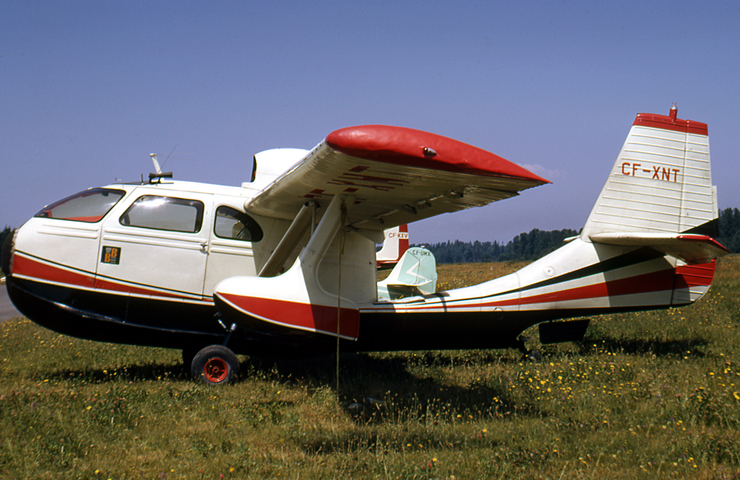 CF-XNT
Nanaimo, BC, Canada
15 June 1969
Photo: © courtesy of Larry Milberry
AIRCRAFT DATA

Manufacturer:
Republic Aviation Corporation; Farmingdale, Long Island, New York, USA.
Model:
RC-3 Seabee
Type Certificate No:
A-769
Serial Number:
696
Manufacturing Date:
1947-04-??
Engine:
Franklin 6A8-215-B9F (215 HP at 2500 RPM)
Remarks:
Mode S codes:
Reg. No.
Date
Remarks
NC6446K
N6446K
1947-04-??
Manufacturing Date.
1947-04-??
Test flight.
1947-04-19
Officially delivered from Republic Aviation Corporation to Hinck Flying Service, Inc.; Minneapolis, Minnesota, USA.
1966-03-10
C of R issued to:
Francis J. Trudell; 3658 Barlow Road, Traverse City, Michigan.
1968-09-18
Aircraft Bill of Sale:
Purchaser: Kenmore Air Harbor, Inc.; PO Box 64, Kenmore, WA 98028.
Seller: Francis J. Trudell.
1968-11-12
Cancelled from FAA Aircraft Registry.
CF-XNT
1968-??-??
Imported to Canada.
Sources:
RAC Seabee Delivery List.
FAA Aircraft Registry.
Canadian Aircraft Register.
Larry Milberry.