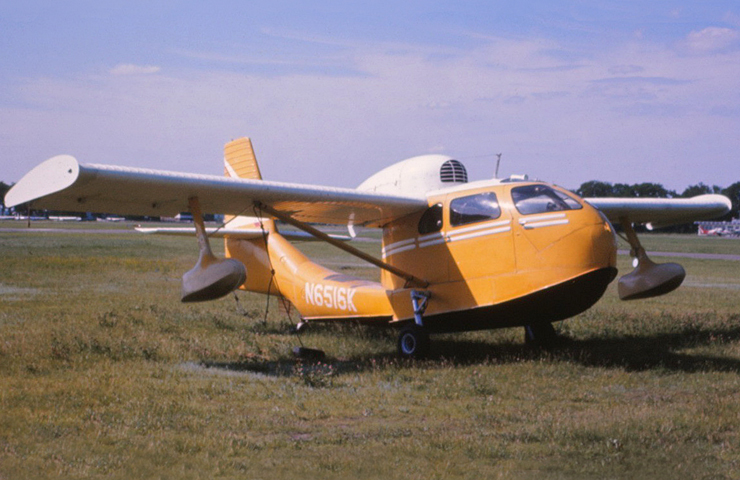 N6516K
Flying Cloud Airport (KFCM)
Eden Praire, Minnesota, USA
18 June 1967
Photo: © Richard Bugbee courtesy of Dan Bugbee
AIRCRAFT DATA

Manufacturer:
Republic Aviation Corporation; Farmingdale, Long Island, New York, USA.
Model:
RC-3 Seabee
Type Certificate No:
A-769
Serial Number:
782
Manufacturing Date:
1947-04-??
Engine:
Franklin 6A8-215-B9F (215 HP at 2500 RPM)
Remarks:
Extended spray rails, "splates" wing tips.
Mode S Codes: 52111645 / A893A5
Reg. No.
Date
Remarks
N6516K
1947-04-??
Manufacturing Date.
1947-04-??
Test flight.
1947-05-07
Officially delivered from Republic Aviation Corporation to Metcalf Flying Service, Inc.; Walbridge, Ohio, USA.
1969-??-??
Richard Bugbee; Eden Prairie, Minnesota.
????-??-??
Jerry M. Pressley; Strawberry Plains, Tennessee.
1984-??-??
William G. Buckaloo; PO Box 202, Mendocino, California 95460.
1984-09-12
Accident occurred Wednesday, 12 September 1984 in Little Rock, Arkansas.

The antique aircraft was purchased and a ferry flight to California was attempted with very limited dual instruction and minimal knowledge of the aircraft. The propeller installed on the aircraft was not in accordance with FAA specification. An STC was available for the propeller, but maintenance logs did not reflect the installation of the propeller or if the STC had been complied with.

According to pilot's statement, in the 6 hours of experience in the aircraft, the max engine RPM attained was 2,000. During the initial legs of the ferry from Morristown, TN, numerous takeoffs were aborted because the aircraft would not accelerate to proper take off speed. Prior to the accident 2 unsuccessful takeoffs were aborted on the 9,000 ft runway. On the third try the aircraft climbed to about 200 ft but was unable to maintain altitude. In an attempt to clear a highway, the pilot raised the nose until the aircraft stalled, entered an uncontrolled descent and impacted the ground short of the road.

The National Transportation Safety Board determines the probable causes of this accident as follows:

Operation with known deficiencies in equipment.. performed.. pilot in command.
Unsafe/hazardous condition.. disegarded.. pilot in command.
Airspeed (VS).. not maintained.. pilot in command.

Contributing Factors:

Propeller system/accessories.. improper.
Inadequate transition/upgrade training.. pilot in command.

NTSB Identification: MKC84LA275

1984-??-??
Cancelled from US CAR.

Sources:

RAC Seabee Delivery List.
FAA Aircraft Registry.
Dan Bugbee.
NTSB website.