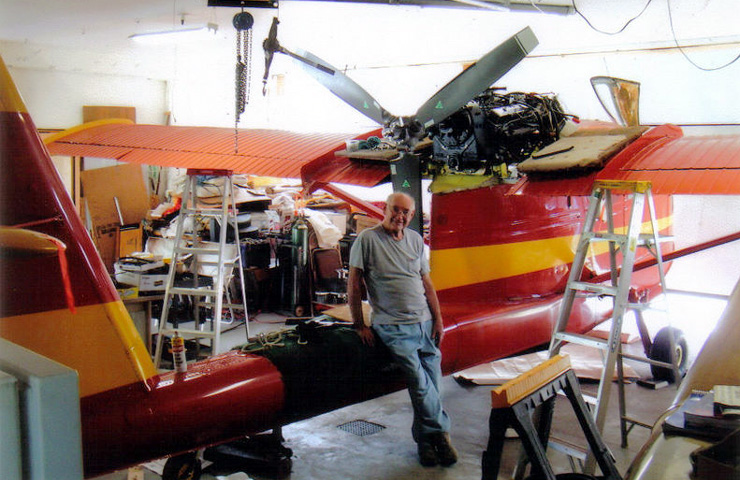 Don Knight and his "SeaCar" N6668K
2004-12-16
Photo: © courtesy Diane Coggins
AIRCRAFT DATA

Manufacturer:
Republic Aviation Corporation, Farmingdale, Long Island, New York, USA.
Model:
Republic RC-3 Seabee
Type Certificate No:
A-769
Serial Number:
945
Manufacturing Date:
1947-06-
Engine:
Franklin 6A8-215-B9F (215 HP at 2500 RPM)
Continental IO-470P engine conversion (270 hp)
Continental Tiara engine conversion (295 hp)
Chevrolet 350 CC engine conversion (343 hp)
Remarks:
"Air Car" tail!
Reg. No.
Date
Remarks
N6668K
1947-06-
Manufacturing Date.
1947-06-
Test flight.
1947-07-25
Officially delivered from Republic Aviation Corporation to James E. Stephens; New Orleans, Louisiana, USA.
1978-06-28
Donald H. Knight; 3065 Roseline Court, Flint, Michigan 48507, USA.
Continental Tiara installed but not approved by FAA... Modified with new tail section, Chevrolet 350 CC engine, three-bladed propeller etc. to comply with 51% "homebuilt" rule.
2008-12-30
Donald H. Knight; 1022 Campo Court, Weidman, Michigan 48893, USA.
(New address from Diane Coggins 2008-12-30).