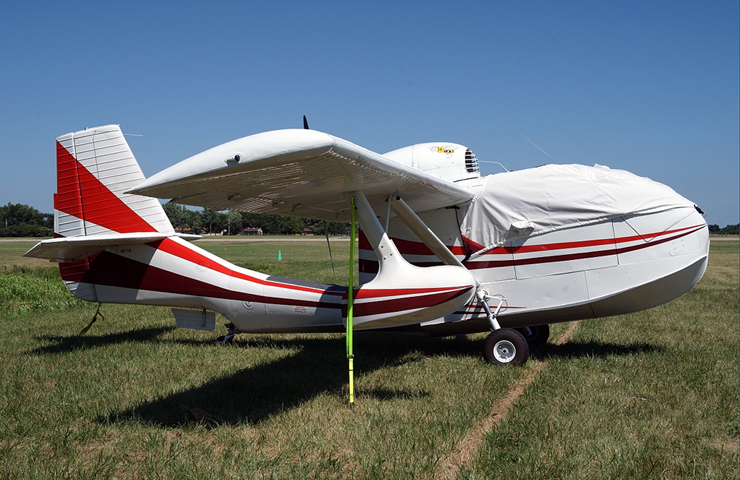 N6713K
Oshkosh, Wisconsin, USA
25 July 2011
Photo: © courtesy of Roger Janssens
AIRCRAFT DATA

Manufacturer:
Republic Aviation Corporation; Farmingdale, Long Island, New York, USA.
Model:
RC-3 Seabee
Type Certificate No:
A-769
Serial Number:
996
Manufacturing Date:
1947-07-??
Engine:
Franklin 6A8-215-B9F (215 HP at 2500 RPM)
Remarks:
Mode S Code

52161072

Reg. No.
Date
Remarks
NC6713K
N6713K
1947-07-??
Manufacturing Date.
1947-07-??
Test flight.
1947-??-??
Officially delivered from Republic Aviation Corporation to ?.
1955-08-10
A/W Date.
????-??-??
Maine Aviation Corp.; Portland, ME, USA.
????-??-??
Dwight Sowerby; Pheasant Road, Peterborough, NH 03458, USA.
1998-06-17
John F Flynn; 152 Stromboli Drive, Islamorada, FL 33036-3313, USA.
2001-01-11
Lee L Robbins; 42 Aviation Drive, Horseheads, NY 14845-1102, USA.
2004-09-13
Don Johnson DBA; 2802 Bowie Street, Amarillo, TX 79109-3402, USA.

New address 2010:
Don Johnson DBA; 70 Aviation Pl., Amarillo, TX 79118-6715, USA.
Sources:
RAC Seabee Delivery List.
FAA Aircraft Registry.
Roger Janssens.