The Flintstone Rocket
Home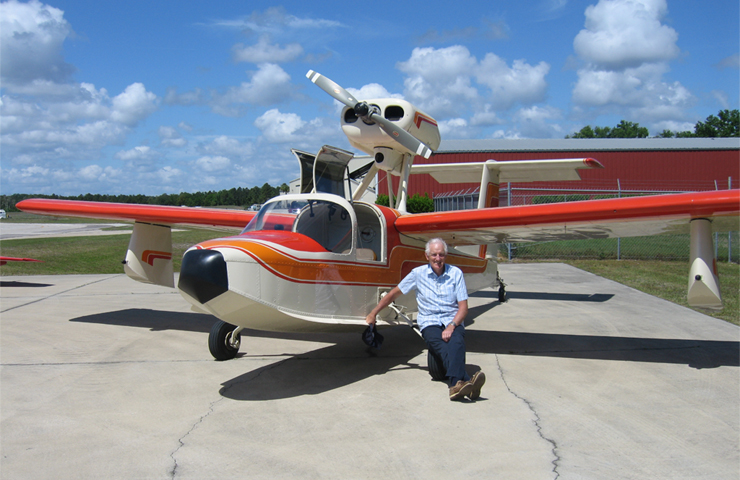 It was all worth it in the end!
Tom Beck having a rest at Flagler Airport, Florida.

I had just been scared to death by the darn thing. Unknown to me, my passenger had
inadvertently wound full bow trim on for the landing. We exited sharply to the right!
Only partly awake, in that zone where nothing is certain other than perhaps that it was after all only a nightmare. With my disconnected head floating freely above a bank of white cloud and trying to make sense of a barn stuffed full of junk that may once have been an aircraft. Well, that's a relief. I can get back to normal now!

I slowly open my eyes. I am in a single bed, surrounded by white sheets, blankets and banks of machines and pipes. Sitting next to me and holding my unfeeling hand is a small Indonesian male nurse wearing a worried expression. Seeing that my eyes are open he says, "The doctor is on his way." Great!

Just what the hell is going on? I remember being wheeled on a very narrow stretcher into a pre-op room that resembled a corridor and seeing an anaesthetist. I also recall the specialist leaning against the wall in his overalls smoking a cigar. He asks, in a broad Glaswegian accent, "How are you doing then?" I reply that I am as nervous as a kitten and seriously considering doing a runner. He laughs and says that I wouldn't get far as the hospital needs my money and that they employ guards to return any runaways.

It's starting to make sense. The specialist was Derek McMinn and I was being wheeled in for the first of two hip resurfacing operations. What on earth did they knock me out with?

I still can't feel anything!

So what was all that stuff in a barn? I recall bringing a flight into Manchester and driving to Pontefract for a few hours of sleep. While asleep, my brother Bob, Bob McLean, Terry Potter and George McLean had collected my current project from a stone barn high up in the Pennine hills and parked the trailer full of bent bits outside my bedroom. When up and about, my friend and host, Peter Scott - who had also loaned me his Ford Explorer, helped me hook up the trailer and off I set for Sussex, where friends Martyn, Matt and Bob Smith helped me unload. As each part came off the trailer my heart sank as more and more serious damage became apparent.

A quick sleep was followed by the return drive to Halifax, a taxi to Doncaster, a train back to Sussex and another short sleep followed by a drive to Birmingham for the operation.

Why do I let myself get into these situations? Will I never learn?

It all started in late summer of 2002 because I thought that, in Florida, I really needed an aircraft which could land on water as well as on land. Peter Scott had said that he knew of such an aircraft, which had been written off 10 years earlier and that a friend of his, Rodney Heaton, now owned and had the parts stored in an old stone barn.

Well! Being a sucker for old damaged aircraft, I was persuaded to go and have a look. It was bad, worse in fact than anything that I had ever seen! "No, definitely not. Thank you Rodney but no, It's far too big a job for me." Rodney replied in his broad Yorkshire accent "I'll tell thee whot lad, mek me a silly offer. Ah knows that thee can fix it up and when th'as finished, I can come to Florida and fly it with thee". I was hooked. We did the deal and I broke one of my cardinal rules: 'Never buy a type you haven't flown'.

So how, I can hear you thinking, did this 1971 relic end up as a collection of bent bits in Yorkshire? For anoraks like myself, it is a seaplane, actually an amphibious flying boat.

(Defined as a seaplane where the fuselage provides the buoyancy.)

Serial number 15, Thurston Teal was constructed at Sanford, Maine prior to being flown to Canada, where it flew until 1992 as C-GDQD. A UK resident bought the aircraft, had its wings and tailplane extended and employed Keith Sissons to fly it to Oxenhope airfield in Yorkshire. Keith, who I have never met, is an experienced seaplane pilot and is obviously made of different stuff to me! After more modifications which allowed the aircraft to be flown over the Atlantic at weights of 400lb or 20% heaver than normal, Keith flew from the Toronto area via Goose Bay, Narsarsuak, Reykavik, Hornafjordur, Glasgow and finally to Huddersfield. Total flight time of 44:36 hrs, with one leg of 10:25 and one of 9:25. It's hard to imagine the skill, ability and courage required to ferry an aircraft of this type across the Atlantic. The journey took 12 days and was a fantastic achievement. That the aircraft still flies today, is a tribute to Keith. I take my hat off to him.

Sadly, the aircraft flew on only 4 days from Oxenhope, during which time it was flown to Ireland where landing on water is allowed, this not being the case for most of England.

Back at Oxenhope, the aircraft was left overnight without being tied down and was blown over in a strong wind. It rolled to the right, smashing the nose, right wing float and wing tip. At this point it was blown over onto its back, forcing the engine and its mount into the cockpit, tearing the 'A' frame pickups out of the main spar and completely trashing the stabilizer, elevator, fin and rudder.

After Rodney assumed ownership, he stored the now disassembled parts in his barn and for years tracked down and bought many of the parts which would eventually be required to repair and reassemble the aircraft. However, the task of finding an engineer with the time, skill and inclination to complete the rebuild proved to be more problematic.

Although provisionally allocated the UK registration of G-TEAL, the aircraft was written off before it could be transferred from the Canadian register. Time went by and even the Canadian registration was cancelled.

Once let out of hospital and able to move around again, I could use my 3 months off work to plan and organize an effective repair scheme. Although I have been an aircraft engineer all my working life, I am what is called in the trade, a 'fairy' or 'sparks' (i.e. avionics/electrics/instruments) and my skill at repairing metal stops at pop riveting!

Fortunately for me, I know a man who does know about it!

When able to drive again, I loaded all the seriously bent bits into a white van, drove to Chessington and spread them all over the grass for Marc Anstey to look at. Marc had every reason to say "no way, Josť - forget it" but he didn't! He calmly assessed it all, decided what could be repaired and what had to be built from scratch and wandered off to his workshop clutching armfuls of bent tin.

To this day I don't know how Marc and his friend Peter found the time to repair the aircraft. Much of the detailed work was done at Chessington and the rest in my garage at home. Not only was the standard of workmanship of the highest order but so was all the paperwork. The photographic record was a work of art in itself. I and S/N 15 will be forever in your debt, Marc. You did a great job.

With the help of some friends in Sussex, we loaded the parts into a container for shipment to Florida where I carried out the final assembly, painting and all the required paperwork to put the aircraft back onto the FAA register. I gave up counting my labor when it reached 1,000 hours and I doubt that without the timely help of John Snead, my neighbor in Florida who is also an A & P mechanic and Inspector as well as Marc and Graham Rowley, I would still be trying to finish the job.

In the meantime, now 60, I had retired from the day job in 2003 and had revisited my cigar-smoking surgeon to have the second hip done. While still on crutches, I was unable to resist the offer of another flying job and spent the next three years flying to exotic places like Basra, Baku, Amritsar and Accra, seemingly always at night. It might not have been glamorous but it did give me the wherewithal to complete the Teal and the hangar in which to house it.

The day finally arrived, Easter Sunday 2005, when we were able to pull the aircraft out of the hangar and run the engine. With Marc and John watching, I checked the various systems in the as yet unfinished cockpit. "Give it a bit more power," shouted John. As I did so, even though we were chocked, the aircraft moved forward a couple of feet and sank onto the grass. The look on my face must have said it all! John and Marc were doubled up and helpless with laughter. In my rush to get the ground run completed, I hadn't fitted the small panel which provided the mechanical lock for the undercarriage.

This allowed the aircraft to rotate around the gear and to settle harmlessly on its hull. As the engine and propeller are mounted well above the wing, no damage was done, although it took me a while to assimilate all that!

I had been warned by people who had flown the Teal in the 70's that its handling could be tricky but I had been unable to find any write-up or notes that gave anything other than glowing reports. Well, what can I say? It is as tricky to operate and fly as anything that I have ever come across. It can be both sensitive and vicious, and has some of the worst characteristics of both a tail dragger and tricycle combined. Or in Peter Scott's immortal words, "It's a little bugger." Having said that, it's the same to everyone, it's built like a tank and if operated well within the capabilities of both the pilot and aircraft, it's damn clever and a hell of a lot of fun, especially when on the water.

Strangely, I have been unable to persuade either John or Marc to fly with me in the Teal.

They always claim to be much too busy or say perhaps another time before they disappear out of sight! Some of my American friends claim that the Teal is a better boat than an aircraft and because it's so heavy, slow and underpowered have given it the nickname of the Flintstone Rocket.

Rodney has been over to Florida a couple of times and we have flown the Teal together.

He doesn't seem too enamoured with the handling, and on the last occasion he remarked, " Aye lad, I'm rite pleased I sold you the bloody thing. In fact it's sa bad I 'ave bin thinking o' giving thee a discount." Being Yorkshire, born and bred, thinking was as far as it got.

The help and enthusiasm of many people helped turn an idea into reality and it just goes to show that nightmares can contain the stuff of dreams.

Tom Beck
February 2011.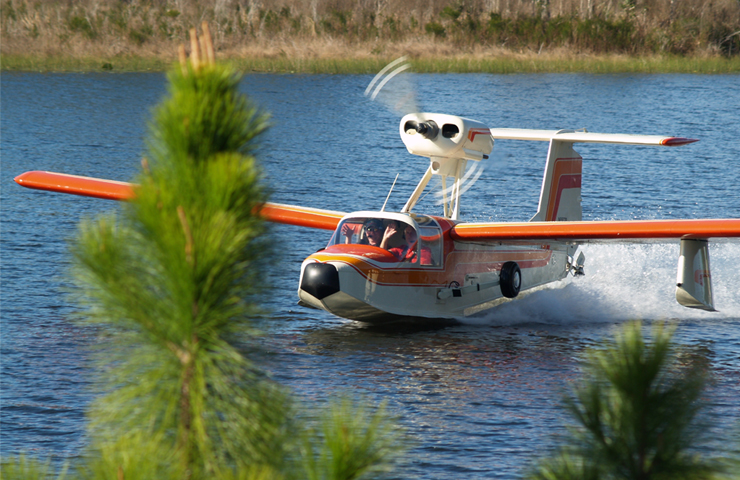 Step taxiing at 45 kts on the lake at Eagles Nest, Florida.
The water rudder is up and gear retracted. It's several knots slower in the cruise with with
the gear retracted. It's quite hard to balance the aircraft on the tip of the hull's step.
Home

Updated: 2013-05-22

© 2013 Steinar Saevdal