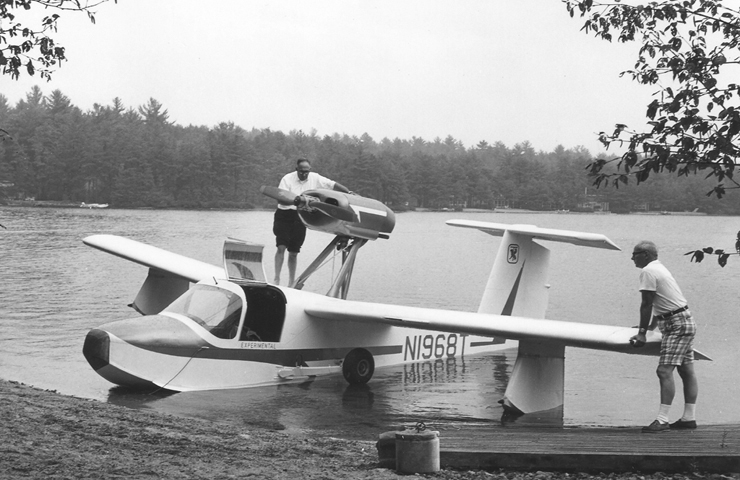 N1968T
Thurston TSC-1A Teal Amphibian Protoype
Test pilot Young at engine and designer Dave Thurston at wing tip
Photo: © Howard Levy courtesy of Gary Larson

Introduction

Anyone with an interest in seaplanes, flying boats, amphibians, aircraft design and aviation safety will recognize the name David B. Thurston. Dave Thurston was, together with designers such as Percival H. "Spence" Spencer, Molt B. Taylor, Herbert P. Lindblad, Volmer Jensen and Leroy Grumman, one of the most influential post WWII amphibian aircraft designers.

Thurston is known for designing a range of amphibians originating from his own Colonial Aircraft Corporation C-1/C2 Skimmer amphibians, which evolved into the Lake LA-4 under Lindblad's guidance, the Thurston Teal and more recently the Thurston TA16 Seafire.

Thurston was also the author of a number of well-known aviation books.

David B. Thurston died December 10, 2013 at his residence in Portland, Maine, USA. He was 95 years old.
Education

David Byron Thurston was born on 20 September 1918, in Mineola, New York. In June 1940 he graduated from the Guggenheim School of Aeronautics, with the degree of Bachelor of Aeronautical Engineering, receiving the Chance Vought Design Award for his senior year aircraft design project.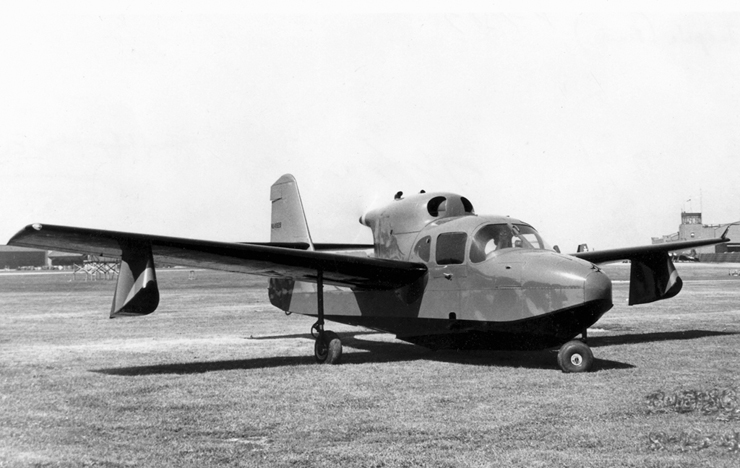 The Grumman G-65 Tadpole amphibian
Photo: © Howard Levy courtesy of Gary Larson
Grumman

His first employment was with Brewster Aeronautical Corporation, Long Island, New York, where he was a design engineer from May 1940, working on the Brewster Buffalo export fighter. He left Brewster in May 1942 to work with The Grumman Aircraft Engineering Corporation of Bethpage, Long Island, New York.

At Grumman, Thurston was to be involved in a wide range of interesting projects, ranging from personal aircraft to missiles. One of his first assignments at Grumman was engineering related to placing the Grumman F6F Hellcat carrier fighter into quantity production during WWII.

At the end of WWII, Thurston was involved in the development of three personal type aircraft directly under the Grumman president, Mr. Leroy R. Grumman. The aircraft included the G-65 Tadpole amphibian, the G-63 and the G-72 Kitten three seat sport planes. The Kitten was a low wing monoplane. The G-63 had a fixed landing gear, while the G-72 Kitten had a retractable landing gear. None of these aircraft entered production, when the post-war personal aircraft market did not boom as predicted. There were several competitors on the market, leaving few winners.

However, the jet revolution and the looming Cold War very soon started a new golden era for the large aircraft manufacturers in the USA. The Republic Aviation Corporation, North American Aviation and Grumman all flirted with the civil market for a short period, but soon again focused on what they knew best - producing military aircraft. Republic ended the manufacture of the Seabee in 1947, focusing their attention on the much more profitable F-84 Thunderjet jet fighters. North American ceased the production of the NA-145 Navion four seat cabin monoplane in 1947, soon cranking out F-86 Sabre and FJ-1 Fury jet fighters. At Grumman they kept their focus on their most important customers, the US Navy and the USCG. Production of the G-44 Widgeon and the G-73 Mallard amphibians ended in 1949 and 1951 respectively, after 276 and 56 were built. Grumman did, however, continue the development and production of the military G-64/G-111 Albatross twin engine amphibian flying boats. The Albatross was a big success and was sold in large numbers to US Navy, US Air Force and US Coast Guard as well. 466 Albatrosses had been built when production ceased in 1961.

At Grumman Dave Thurston became design group leader for the G-79 naval jet fighter, designated F9F Panther by US Navy. The first prototype made its first flight on 24 November 1947.

The space age technology was also looming, and from December 1947 through June 1953 Thurston was in charge of the top secret Grumman Rigel guided missile design, test and production. From July 1953 through June 1954 Thurston was project supervisor for all development and test work (aerodynamic, static and flight) for the F11F naval jet fighter. At his resignation from Grumman in January 1955, Dave Thurston was in charge of the design and development of propeller driven aircraft at Grumman, being a senior member of a staff responsible for the operation of a 1500 man engineering department.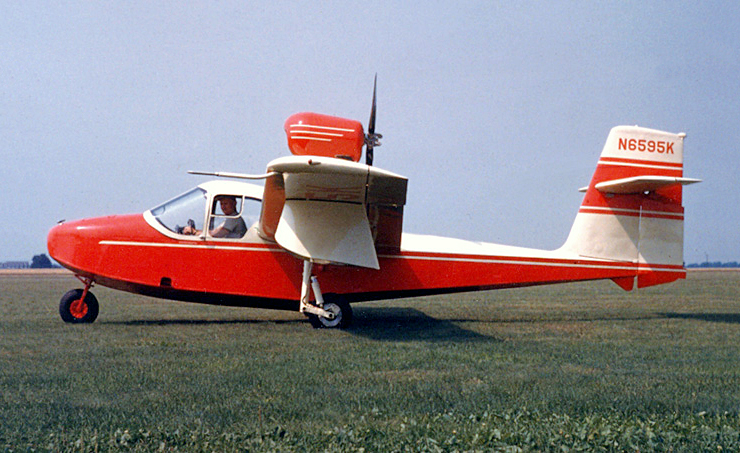 C-1 Skimmer prototype N6595K
Photo: © Dave Thurston via John Staber
Colonial Aircraft Corporation

During his years at Grumman, Dave Thurston developed a strong interest in light amphibious aircraft. When Grumman cancelled all their personal aircraft project late 1946, Dave Thurston and a group of four other engineering and shop friends formed Colonial Aircraft Corporation, to design and build the Skimmer single engine pusher amphibian flying boat in their spare time. The prototype C-1 Skimmer (N6595K) was first flown on 17 July 1948. A long period of development followed.

In January 1955 Thurston resigned from Grumman to pursue Colonial Aircraft Corporation on a full-time basis, together with Herbert P. Lindblad, a former classmate at Guggenheim School of Aeronautics and an engineer with Republic Aviation Corporation. Colonial Aircraft Corporation moved from Huntington Station, New York, to Sanford, Maine, to start manufacture and marketing of the model C-1 Skimmer amphibian. Colonial Aircraft would also undertake Department of Defense development and production contracts.

On 19 September 1955 the Model C-1 Skimmer was approved by the FAA, under Type Certificate No: 1A13. The production C-1 Skimmer had a 150 hp engine and 2/3 seats.

During 1957 the C-1 Skimmer was improved and developed into Model C-2 Skimmer IV. An 180 hp engine was installed, the cockpit was redesigned to accommodate four seats (giving the "IV" designation), the horizontal tail surfaces were redesigned for added area, the wing floats were modified, and structural improvements were made to the engine pylon and the wings for increased gross weight. The C-2 Skimmer was approved on 24 December 1957, under ATC # 1A13.

During 1958 total employment at Colonial reached 275 people. In 1959 Thurston sold the Skimmer program to Jack Strayer, a Colonial distributor and a former Grumman test pilot. A total 23 C-1 Skimmers and 20 C-2 Skimmer IVs had been built by Colonial, when the company was sold.

Strayer formed Lake Aircraft and developed the Skimmer into Lake model LA-4 by increasing wing span by 4 feet, each aileron lengthened by 1 foot, 17 inches were added to the bow, rear wing-to-fuselage attachment was revised, gross weight was increased, and stretching the fuselage by 2 feet. However, sales were slow and in 1962 Strayer sold the rights to John Dalton, after only about 20 were built. Dalton formed Consolidated Aeronautics, but was unsuccessful in funding production.

At this stage Herbert P. Lindblad got together with Merlin L. (Al) Alson and acquired the rights - forming Lake Aircraft Corporation.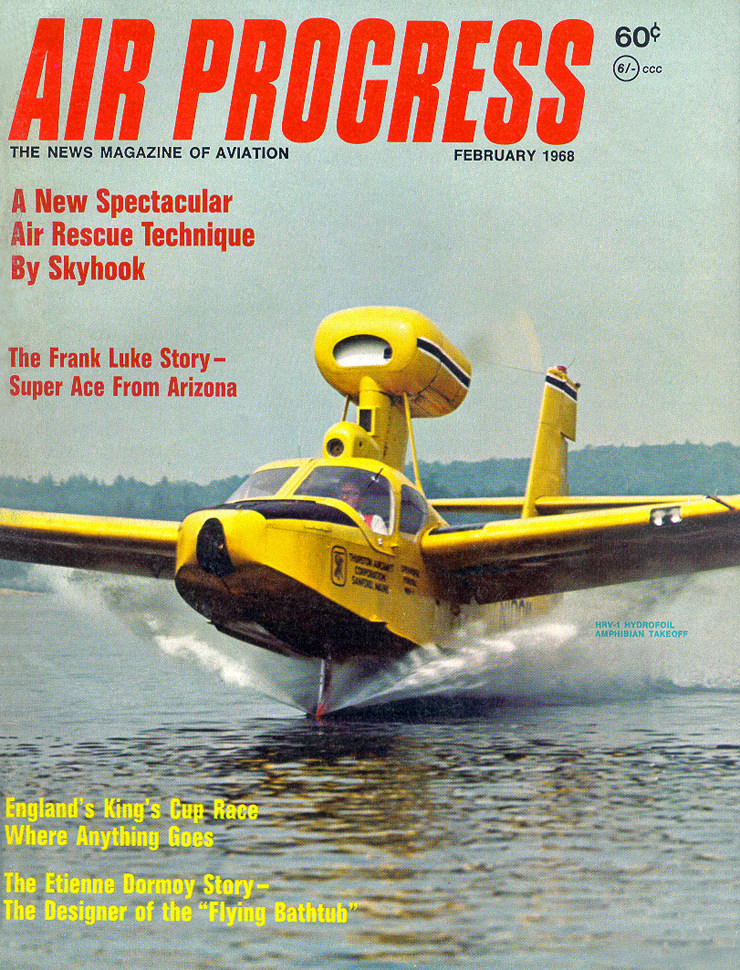 HRV-1 hydrofoil research
Thurston Erlandsen Corp.

In March 1961 Dave Thurston formed Thurston Erlandsen Corporation (TEC), Sanford, Maine, together with ? Erlandsen. TEC was established to provide a qualified engineering and manufacturing source for:

Advanced research programs in the field of hydrodynamic development

Lightweight structures related to the aircraft, space vehicle, and electronics equipment fields.

TEC successfully performed a number of basic hydro-ski development and flight test evaluation programs for the Bureau of Naval Weapons as well as completing a number of technically advanced manufacturing contracts for government and industry. TEC modified a Lake LA-4A (N1001L) amphibian, given the military designation HRV-1, for the hydrofoil experiments. Dave Thurston was the president of TEC from March 1961 through April 1966.

The buildings of TEC reportedly were completely destroyed by a fire at Sanford Airport on 27 July 1967.
Thurston TSC-1A1 Teal
Photo: © Heinz Holzmann
Thurston Aircraft Corp.

In 1966 Thurston sold his financial interests in TEC to obtain capital to develop a commercial sport aircraft to be produced by his new company Thurston Aircraft Corporation (TAC), Sanford Airport, Maine, formed in July 1966. TAC was originally founded to develop small amphibian aircraft and to perform continuing NASC R&D programs leading to the development of the hydrofoil seaplane. Thurston designed the proprietary two/three place Teal amphibian, which received FAA Type Design Approval during September 1969, the first T-tailed aircraft to be approved under FAR Part 23.

Nineteen Teal amphibians were produced and delivered by TAC before operations were terminated during 1971, when stock market conditions precluded adequate financing. The Teal program was sold to Schweizer Aircraft Corporation, Elmira, New York, in December 1971.

In 1971 Thurston designed the Model TSC-2 Explorer for Marvin Patchen. The TSC-2 was a landplane observation aircraft based in the Teal amphibian, but with new engine pylon, a 200 hp O-360 engine, observation nose, tricycle landing gear. When Thurston in 1971 laid down Thurston Aircraft and sold the Teal design to Schweizer Aircraft, the TSC-2 project was taken over by Lake LA-4 manufacturer Aerofab Inc. (Herbert P. Lindblad), at Sanford Airport. Aerofab completed the only TSC-2 Explorer to be built (N1EX).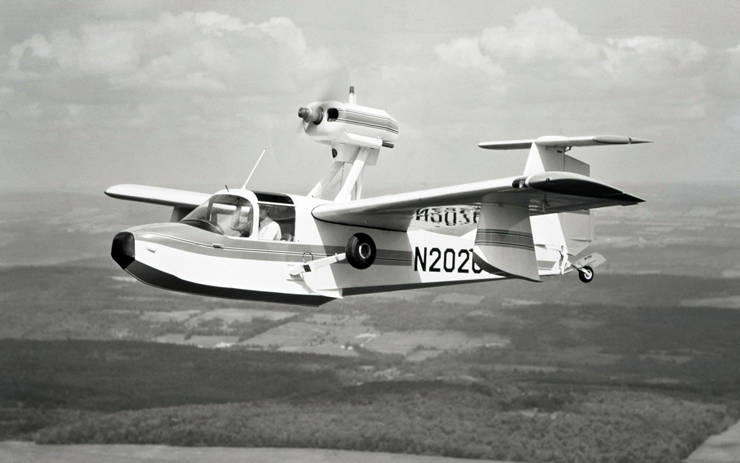 N2020T
Photo: © Schweizer Aircraft Corporation 1972
Schweizer Aircraft Corp.

From January 1972, Thurston became Engineering Manager of Schweizer. Duties included engineering and production of the Grumman AG Cat program, certification work and static tests of the Schweizer 1-35 high performance sailplane and coordination of seven type certified aircraft in production at Schweizer, including his own design, the Teal amphibian. Model TSC-1A2 Teal, with flapped wings, was developed at Schweizer, under Thurston's guidance.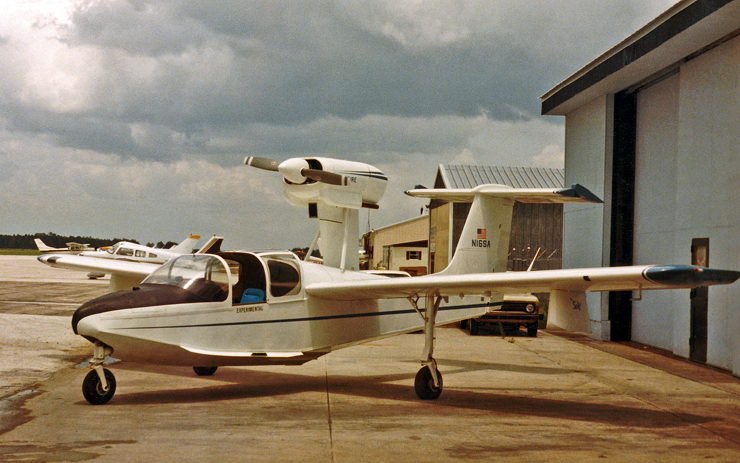 Thurston TA-16 Seafire
Photo: © Arnfinn Halland
Thurston Aeromarine Corp.

In June 1976 Thurston resigned from Schweizer Aircraft to form Thurston Aeromarine Corporation, aircraft design consultants. In addition to designing his next amphibian airplane, the TA-16 Trojan/Seafire, Thurston has also been a consultant in the design of a number of other aircraft, including the Sequoia 300 homebuilt and the Ross twin engine amphibian, based on the twin engine Britten Norman Islander commuter landplane.

Thurston also designed a number of airplanes that did not leave the design stage. Known Thurston designs include; TA-22 and TA-24 personal planes and TA-19 Seamaster twin engine amphibian.

Thurston was a FAA-appointed Designated Engineering Representative, OHTM Trustee, and award winning author. Some of his books include;

Design for Flying, [McGraw-Hill, New York, 1978]. This book covers general aviation aircraft and also design of amphibians. A second edition has been published in 1995 by Tab Books, a subsidiary of McGraw-Hill. It is a major revision. Dave won the prestigious Earl D. Osborn award from the Aviation Space Writers Association, their top award for writing on the subject of general aviation, for the book.

Design for Safety, [McGraw-Hill, New York, 1980]. This book provides an analysis of general aviation accident data and a list of considerations to produce aircraft that are much safer than current general aviation designs. Read this book when developing a general aviation concept.

Homebuilt Aircraft, [McGraw-Hill, New York, 1982]. This book covers the homebuilt movement in detail, including drawings and design data for over 100 aircraft as well as providing suggestions for construction and safe flying procedures.

The World's Most Significant and Magnificent Aircraft: Evolution of the Modern Airplane (2000). This book showcases the world's most remarkable aircraft that have made a valuable contribution to the development and evolution of the airplane as we know today. A total of 142 planes were chosen by the author because of their importance in the advancement of design in power plant, flight concept, major production, and detail refinement.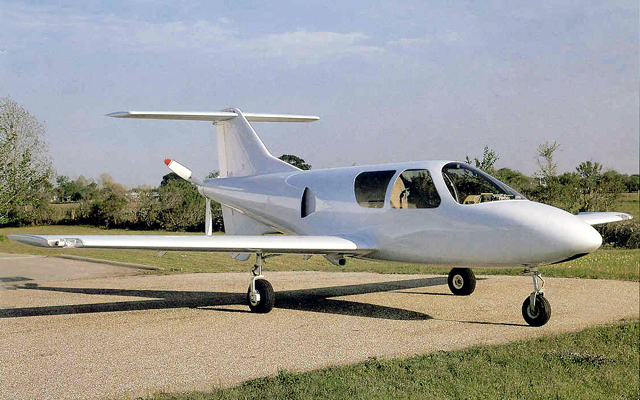 Major Aircraft Projects by David B. Thurston

Model G-63, G-65 and G-72 aircraft designed by Thurston as project engineer working for Mr. Roy Grumman. Aircraft carried through flight test but subsequently dropped at Navy request.

Forward fuselage and tail support structure for F9F-2 Grumman "Panther" jet fighter.

Project manager for the design, construction, and firing test evaluation of the Grumman "Rigel" supersonic ram-jet cruise missile successfully developed during 1947-53.

Project engineer Grumman F11F "Tiger" supersonic fighter.

Design, develop and FAA certify Colonial Aircraft Model C-1 "Skimmer" Amphibian airplane.

Design, develop and FAA certify Colonial Aircraft Model C-2 "Skimmer IV" Amphibian airplane.

Develop Hydroski and hydrofoil equipped aircraft design parameters and operating procedures under U.S. Navy contracts. Wrote hydrofoil seaplane design manual for Navy use.

Design, develop and FAA certify Thurston Aircraft Models TSC-1A and -1A1 "TEAL" Amphibian airplanes.

Design, develop and FAA certify Schweizer Aircraft (Thurston) Model TSC-1A2 "TEAL II" Amphibian airplane.

Coordinate FAA certification for the Schweizer Model G164B "AgCat" crop duster.

Coordinate FAA certification for the Schweizer Model 1-35 high-performance sailplane.

Configuration design, applied loads and homebuilder detail drawings for the "Sequoia 300" high-performance turbocharged landplane (300 mph at altitude; first plane flown 4/26/92).

FAA certification of the Schweizer "TurboCat" modification.

Configuration design, applied loads and detail drawings for Thurston Aeromarine Corporation Model TA16 "SEAFIRE" four-place amphibian airplane being FAA certified.

Configuration design, applied loads and detail design for Aerodis America Model AA200 "ORION" four-place, pusher, composite landplane. Successfully flown 8 April '91.

Supervised the detail design and construction of a successful flying replica of the Curtiss 1908 "June Bug" for the Glenn H. Curtiss Museum, Hammondsport, N.Y. (1973-76); the Etrich "TAUBE" 1913 monoplane (1978-1990), and a 1919 Farman biplane replica (1990-95) for the Owls Head Transportation Museum. Owls Head, Maine.

| | | |
| --- | --- | --- |
| Model | Year | Remarks |
| C-1 Skimmer | 1946 | Amphibian |
| C-2 Skimmer IV | 1957 | Amphibian |
| HRV-1 | 1965 | Amphibian hydrofoil research vehicle |
| TSC-1 T-boat | 1966 | Flying boat |
| TSC-1A Teal | 1966 | Amphibian |
| TSC-2 Explorer | 1972? | Observation airplane |
| TA-14 Triphibian | 1974? | Amphibian |
| TA-16 Trojan | 1975? | Amphibian (homebuilt) |
| TA-16 Seafire | 1980? | Amphibian |
| TA-19 Seamaster | ? | Amphibian (twin engine) |
| TA-22 | 1982? | Personal airplane (2 seat) |
| TA-24 | 1982? | Personal airplane (4 seat) |
| S-300 Sequoia | 1990? | Aerobatic homebuilt single-engine landplane (2 seat). |
| AA200 | 1990? | All-composite landplane (4 seat pusher). |
N1968T
Teal prototype1968