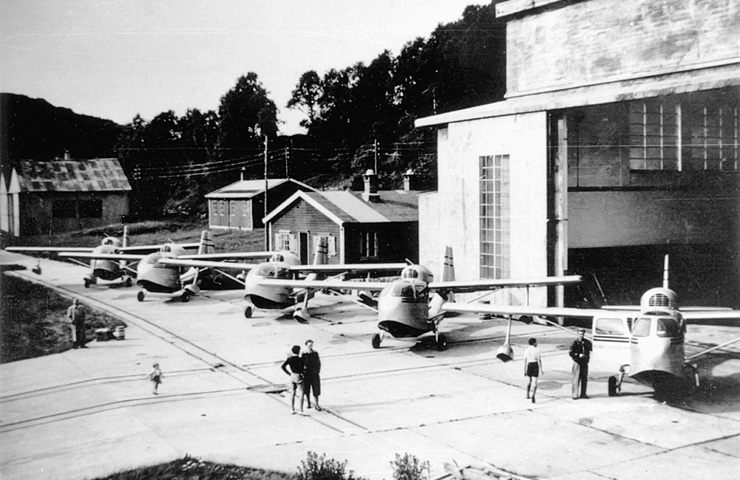 Republic Seabees after assembly at Flatøy SPB, north of Bergen.
June 1947
Photo: © Arne Butteberg via NFF
Norway is a country with a very long coast line splitted up by hundreds of scenic fjords, thousands of islands and thousands of inland lakes - and a very low density of population. It is therefore no surprise that aviation have played an important role in modern Norwegian communications history

Already in the 1920s and 1930s the first commercial aircraft operators were formed, most of them operating seaplanes. When WW2 started several Norwegian military and civil pilots escaped to England to continue their resistance in the Allied air forces. When WW2 ended, the aviation scene was completely different. During the war the technologies of aviation had made giant leaps and it was no longer a strange thought the John Doe could have his own airplane or could go by airplane when traveling.

Several small air taxi companies were formed by ex military pilot heroes from the war. Norway has long traditions of shipping and after WW2 many ship owners grew an interest in air travel. Soon almost every little airfield in Norway had a freshly started aircraft operator. While some of them started their business with surplus military light airplanes from the war, such as Austers and Norseman, several operators found the new Seabee most interesting for the Norwegian coastline.

The famous Norwegian-American aviation pioneer Thor Solberg became the representative for Republic Seabee in Norway in 1946, and after heavy marketing during 1946 - 1947 his company imported 11 Seabees from the USA to Norway. The first Seabee for Thor Solberg (msn 202) was delivered at Republic on 13 January 1947.

Most of the new Seabees imported from the USA were shipped in crates from New York to Bergen, Norway. From Bergen they were transported by barges to Flatøy SPB, north of Bergen, where they were assembled in the military hangars that Thor Solberg had hired from the Norwegian government.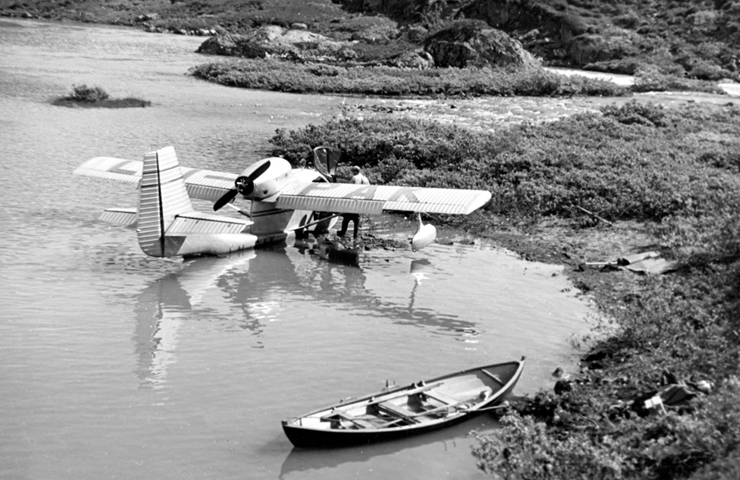 Two working 'horses' of Norway - the Seabee and the row boat!
Photo: © via Jan Richard Liby
One of the early operators of the Seabee, Vestlandske Luftfartselskap AS (VLS), got their first 3 Seabees in May 1947 and officially started their operations from Sandviken SPB in Bergen on 23 June 1947.
VLS was formed in March 1947 after initiative from local politicians who wanted to improve the transportations to and from Bergen. The location of a Bergen airport had been discussed for years, and was to be discussed for many more - until the final decision was made for Flesland in the early 1950s. Bergen Airport Flesland opened in 1956.
Thor Solberg also wanted to operate aircraft commercially from Flatøy, but the local government had put restrictions on the number of aircraft operators operating in Bergen area. They favored VLS and Thor Solberg was only allowed to operate as a flight school and air taxi operator. Solberg also founded a base at Sola Airport. During 1948 Solberg sold most of his aircraft in Norway, including the Seabees and moved back to the USA.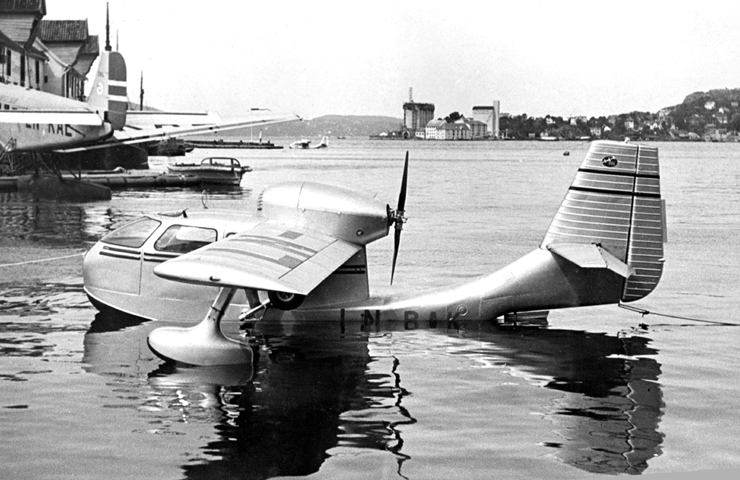 LN-PAK (msn 865)
Sandviken SPB, Bergen
June 1947
Photo: © via Jan Richard Liby

Logo: © Courtesy Kim Brantenberg
On the coast the Seabees would fly people, mail, supplies, etc. to habitated islands. From inland lakes and rivers, the Seabees would fly delicious fish to the town markets. The Seabees would also be the life saving ambulance transportation for emergencies in remote areas and to islands along the coast.

Seabee operators in Norway included Thor Solbergs Flyselskap AS, Wideröe's Flyveselskap AS, Vestlandske Luftfartselskap AS, Tröndelag Flyselskap, Sörfly AS, Mörefly AS.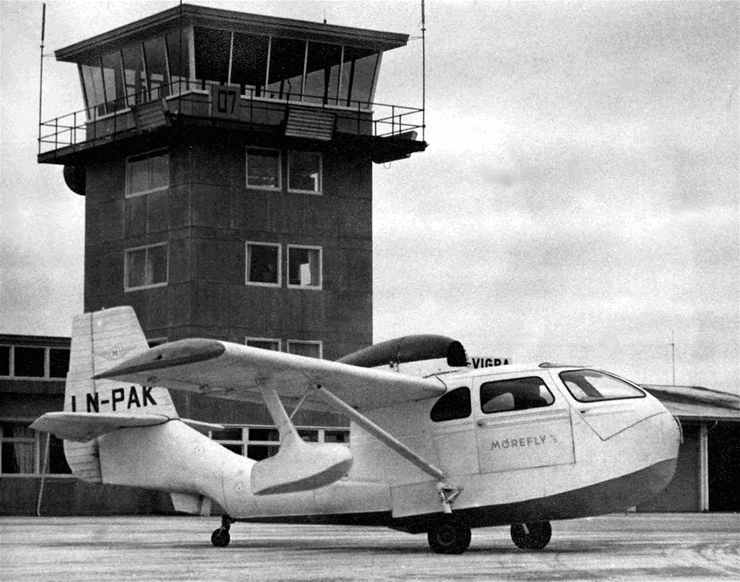 LN-PAK (msn 865)
Vigra Airport, Ålesund.
Operated by Mørefly AS
Photo © via Per Erik Dalen

During the late 1940s and the 1950s the Republic Seabee became one of the most popular ambulance aircraft in Norway. The nose door was very useful when taking patients in and out of the aircraft, especially on water.

Photo © via Per Erik Dalen

One of Mørefly's Seabees flying over Ålesund, on the North-west coast of Norway. Mørefly operated two Seabees from their seaplane base at Sörnesest in Ålesund.

Photo © via Per Erik Dalen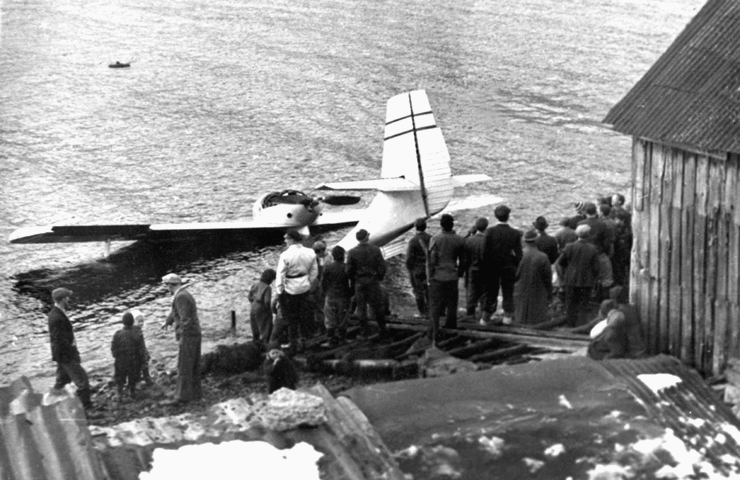 LN-PAI (msn 864)
Crashed in Høyanger on 23 March 1948
Photo: © via Jan Richard Liby
Almost all of the Norwegian Seabees had minor accidents or crashed during their careers. Most of the accidents happened off airports. This should come as no surprise, when considering the challenging environment they operated in and the difficult tasks they had. In most accidents the occupants survived, but sadly three people died in two ambulance flight crashes.
Two Seabees (msn 645 and msn 646) were imported to Norway from England to replace Seabees that had been lost in accidents.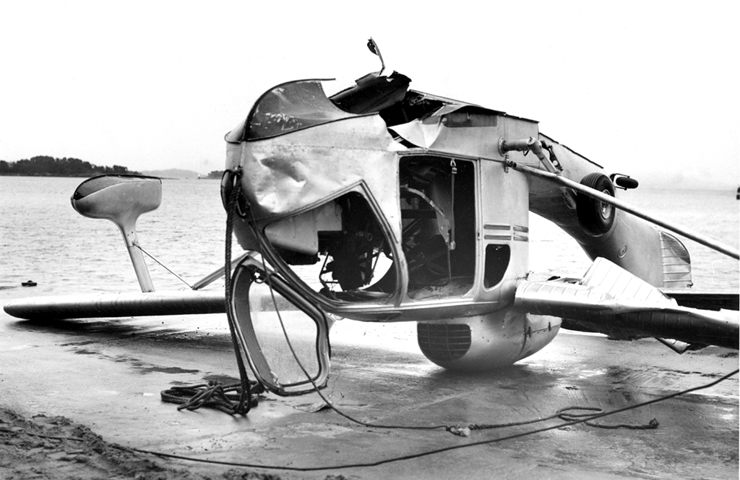 LN-PAM (msn 644)
Crashed on 22 January 1957
Photo: © via Jan Richard Liby
The last Seabee in Norway, LN-IKK (msn 270), was sold to Sweden summer 2003 and was cancelled from Norwegian Register on 17 September 2004. In Sweden msn 270 has been registered SE-AXR. Sadly 57 years of Norwegian Seabee history was over...
Summer 2009 Mr. Per Otto Leth-Olsen, Jonsvatnet, told this webmaster that he was considering purchasing a Franklin-powered Seabee from the USA. Autumn 2009 the great news was confirmed when registration LN-PLO was reserved for Seabee msn 813 (N6547K). December 2009 the Seabee finally arrived Norway, and is now hangared at Værnes Airport for restoration. Per Otto's late dad, Petter Leth-Olsen, was the owner of Seabee LN-TVV (msn 829) during the early 1960s!

After a 2-year restoration by Per Otto, LN-PLO made her first flight in Norway on 08 October 2010. On 15 October Per Otto made the first landing on his "home" lake "Jonsvatnet" just outside Trondheim.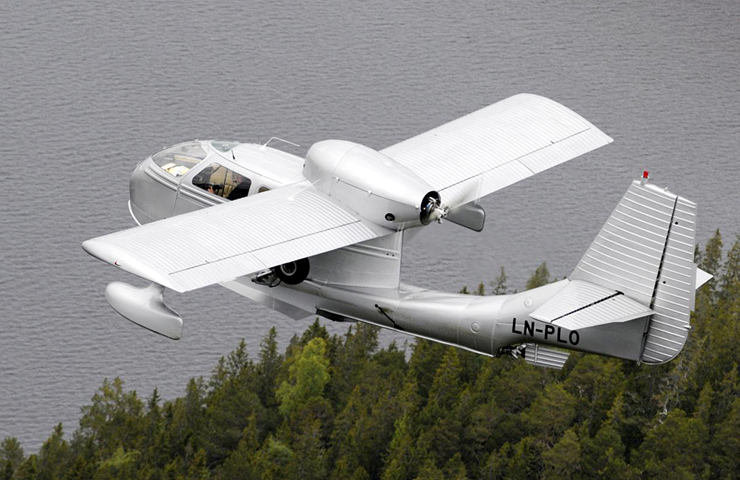 LN-PLO (msn 813)
Jonsvatnet, Trondheim, Norway
12 June 2012
Photo: © courtesy of Håkon Bonafede / "Vi menn" Magazine
S
Photo:
Reg:
msn:
Reg. Years:
Remarks:
D
LN-BDT
202
1957 - 1972
RAC delivery: 1947-01-13.
Ex LN-MAF, SE-BXA. Scrapped.
F
LN-IKK
270
1966 - 2004
RAC delivery: 1947-02-04.
Ex SE-AXR. To SE-AXR 2004.
D
LN-MAF
202
1947 - 1950
RAC delivery: 1947-01-13.
To SE-BXA, LN-BDT. Scrapped.
F
LN-MAL
953
1947 - 1950
RAC delivery: 1947-06-03.
To SE-BXB. Flying.
C
LN-MAM
737
1947 - 1963
RAC delivery: 1947-06-04.
To OH-SBC. Crashed 1962-06-15.
E
LN-OAW
742
1947 - 1956
RAC delivery: 1947-05-23.
Ex XB-DEL. To SE-CBW. C of A expired 1963.
E
LN-PAF
646
1947 - 1959
RAC delivery: 1947-04-22.
To SE-CHF. Crashed 1961-06-23.
D
LN-PAH
647
1947 - 1966
RAC delivery: 1947-04-22.
Scrapped?
C
LN-PAI
864
1947 - 1950
RAC delivery: 1947-05-23.
Crashed 1948-03-23.
E
LN-PAK
865
1947 - 1962
RAC delivery: 1947-05-23.
To SE-CMM. Crashed 1964-08-15.
C
LN-PAL
905
1947 - 1949
RAC delivery: 1947-06-03.
Crashed 1949-02-28.
C
LN-PAM
644
1948 - 1957
RAC delivery: 1947-04-18.
Ex G-AJVP. Crashed 1957-01-22.
C
LN-PAP
828
1947 - 1951
RAC delivery: 1947-06-12.
Crashed 1951-08-01.
F
LN-PLO
813
2009-
Ex N6547K.
Imported by Per Otto Leth-Olsen.
C
LN-RAB
910
1947 - 1948
RAC delivery: 1947-06-27.
Crashed 1947-09-08.
C
LN-TAG
986
1948 - 1954
RAC delivery: 1947-11-13.
Crashed 1951-05-26.
C
LN-TSN
645
1949 - 1956
RAC delivery: 1947-04-22.
Ex G-AJVO. Crashed 1955-08-23
E
LN-TSM
687
1958 - 1960
RAC delivery: 1947-04-29.
Ex N6437K. To SE-COC. C of A expired 1969.
F
LN-TVV
829
1953 - 1973
1974 - 1979
RAC delivery: 1947-05-28.
Ex SE-AXX. To SE-AXX.
| | |
| --- | --- |
| | Crashed (C) / Scrapped/Destroyed (D) |
| | Confirmed flying (F) |
| | Unknown (U)/ Restoration (R) / Stored (S) / Exported (E). |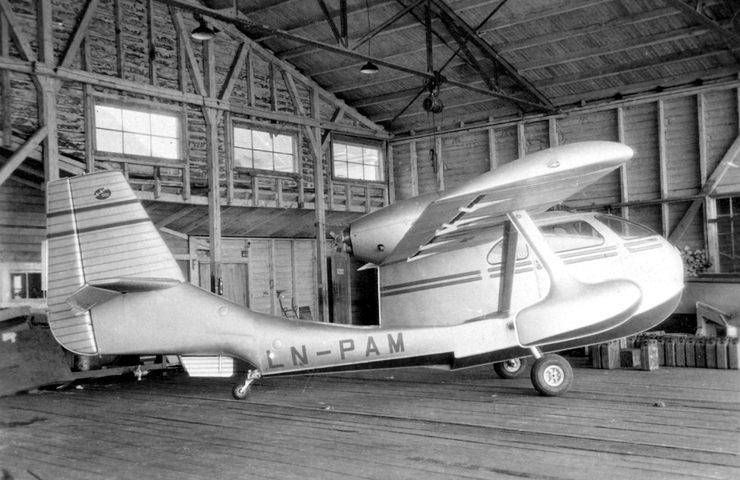 | | | | | | | | |
| --- | --- | --- | --- | --- | --- | --- | --- |
| C of R # | Date | C of A # | Date | Reg # | C/N | Delivery RAC | Remarks |
| 149 | 1947-05-07 | 172 | 1947-05-07 | LN-MAF | 202 | 1947-01-13 | Thor Solberg |
| 157 | 1947-06-09 | 180 | 1947-06-09 | LN-PAF | 646 | 1947-04-22 | E. S. Thofte & Co |
| 160 | 1947-06-19 | 183 | 1947-06-19 | LN-PAH | 647 | 1947-04-22 | Thor Solberg |
| 165 | 1947-07-17 | 188 | 1947-07-17 | LN-MAL | 953 | 1947-06-03 | Thor Solberg |
| 166 | 1947-07-17 | 189 | 1947-07-17 | LN-MAM | 737 | 1947-06-04 | Thor Solberg |
| 167 | 1947-07-17 | 190 | 1947-07-17 | LN-PAP | 828 | 1947-06-12 | Widerøe's |
| 170 | 1947-07-18 | 193 | 1947-07-18 | LN-PAI | 864 | 1947-05-23 | VLS |
| 171 | 1947-07-18 | 194 | 1947-07-18 | LN-PAK | 865 | 1947-05-23 | VLS |
| 172 | 1947-07-18 | 195 | 1947-07-18 | LN-PAL | 905 | 1947-06-03 | VLS |
| 175 | 1947-07-26 | 199 | 1947-07-26 | LN-RAB | 910 | 1947-06-27 | Trøndelag Flygeselskap AS |
| 191 | 1947-10-09 | 215 | 1947-10-09 | LN-OAW | 742 | 1947-04-23 | Sørfly AS |
| 214 | 1948-02-27 | 238 | 1948-02-12 | LN-TAG | 986 | 1947-11-13 | Trøndelag Flygeselskap AS |
| 229 | 1948-06-09 | 253 | 1948-06-10 | LN-PAM | 644 | 1947-04-18 | VLS (ex G-AJVP) |
| 247 | 1949-05-31 | 272 | 1949-05-31 | LN-TSN | 645 | 1947-04-22 | VLS (ex G-AJVO) |
| 298 | 1953-08-07 | 328 | 1953-08-07 | LN-TVV | 829 | 1947-05-28 | Ernst Hansen (ex SE-AXX) |
| 466 | 1958-05-16 | 495 | 1958-05-16 | LN-TSM | 687 | 1947-04-29 | Thor Solberg (ex N6437K) |
| 853 | 1967-05-26 | 853 | 1967-05-26 | LN-IKK | 270 | 1947-02-14 | Ernst Hansen (ex SE-AXR) |
| 1399 | 1974-07-19 | 1399 | 1974-07-19 | LN-TVV | 829 | 1947-05-28 | H. Grøtjorden (ex SE-AXX) |
| ???? | 2010-07-01 | ???? | 2010-07-01 | LN-PLO | 813 | 1947-05-13 | P O Leth-Olsen (ex N6547K) |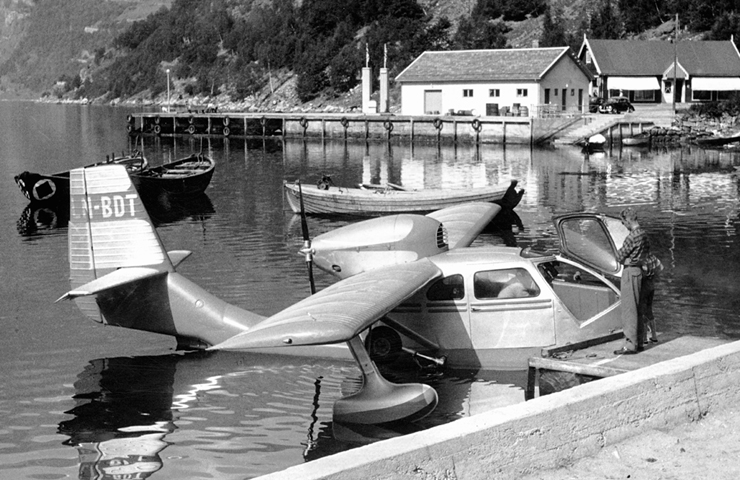 LN-BDT (msn 202)
Geiranger 1958
Photo: © Gaute Strøm via Fredrik Strøm