The roots of Fiskflyg AB goes back to 1942, when the three brothers Axel, Sten and Martin Lundkvist started a fish trading and boating business together from Piteå, Norrbotten, Sweden. On 16 August that year, Axel Lundkvist sent his ten year younger brother Sten Lundkvist (23) from hometown Piteå to the small inland place of Suorva near Porjus to purchase fish and make trading agreements with local Laps and other fishermen.
Travelling the many large lakes of Store Lullevatten with an 8 meter boat, powered by an 8 hp outboard engine, Sten brought with him some forty 25-liter cases for storage of fish, some sacks of salt, 200 liters of engine fuel, some food from Mom and nearly 2000,- SEK (Swedish "kroner") in cash - a vast amount of money in those days... All the lakes connected in the area comprised a distance of approximately 150 km!
During the late 1940s and early 1950s some traders started to enter the fish trading business using seaplanes. In 1951 the Lundkvist brothers purchased a modest amount fish offered from seaplanes, e.g. from Eskiltunaflyg (Arne Gundersen). Gundersen operated two Seabees and an Auster from Luspebryggan, by the large lake Stora Lulevatten. Many of flying fish traders were "gold diggers" that had no experience or knowledge of the fish trade. Much of the fish offered from the floats or hulls of the seaplanes were of poor quality.
In 1947 the Lundkvist's learned that competitor fish trader K. A. Frisk had purchased a Seabee (SE-AXL) for getting to the fishermen - and for transporting the fish back to the markets in the towns. However, the Frisk's lost SE-AXL in an accident after only a few months. Still, the Lundkvist family now realized that seaplanes could be a great asset - even for serious fish traders. There never was any doubt about which airplane type they should get... From what they had seen, the Republic Seabee seemed to be just perfect. In August 1953 a Republic RC-3 Seabee amphibian, SE-AXI, was purchased from Ostermans Aero AB. The fuselage was factory new, and the engine freshly overhauled. A local Jokkmokk private pilot, Erik Ullenius, was hired and given a type rating to fly the Seabee.
The challenges were many in the start... It turned out to be a stiff competition to find a mooring location for seaplanes in Luspebryggen. The electrical company Vattenfall showed little or no interest in the seaplanes, so the Lundkvist Seabee only got a poor location behind the barges.
For practical and safety reasons a second Seabee, SE-AXY, was purchased in 1954. An A&P mechanic recruited from Lapplandsflyg became the first Chief Mechanic for the Lundkvist's.
The Lundkvist's soon learned that by using hired pilots with little or no knowledge of fish, they were starting to loose the personal relations with the local fishermen and hunters. There was only one solution; the Lundkvist brothers would have to learn flying and fly the Seabees themselves! In autumn 1954 Martin Lundkvist left his job as a fisherman and travelled to Barkarby, outside Stockholm, to learn flying. Sten followed in 1956.
As the flying business developed, the Lundkvist brothers started to fly supplies, mail etc. to the Lapps living in remote areas of Northern Sweden. Fiskflyg AB was officially founded in on 1959-04-18, registered on 1972-01-01 and activated on the same date. In 1959 a general store (Storlulehandel AB) was opened in Luspebryggan, and they even took care of the local Post Office.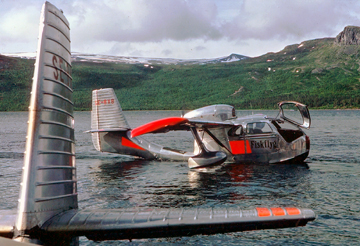 The biggest tragedy in the history of Fiskflyg AB, was the loss of four people in the crash of Seabee SE-AXI on 03 August 1963, at southern end of mountain Alleb Allotjåkko, Padjelanta. The Seabee came into bad weather and tried to turn. During turn, one of the wing floats hit a mountain wall and the Seabee crashed and burned. All four people aboard; pilot Ulf Axel Lundkvist (26), the nomad Nils Mickel Omma and his two children Olov Johannes and Maj Kristine, Stenträsk, were killed. Ulf was the only son of Axel Lundkvist, and had gotten his pilot license in 1960.
Despite this tragic loss, the Lundkvist family decided to keep on their flying business. Two more Seabees, SE-AXB and SE-BXB, were acquired in 1965.
After Luspebryggan was flooded when the new dam "Stora Sjöfallet" was finished in 1975, Fiskflyg relocated their main base to Porjus, where they took over the hangars of Lapplandsflyg. The Lundkvist family moved from Piteå to Strömnesgatan 42 in Porjus. 1975 also saw the start of a new era for Fiskflyg; the first helicopter - a Bell 47G-2 - was acquired. Sten Grahn earned his helicopter license in 1974, and became the first helicopter pilot for Fiskflyg.
One of the most dramatic and bizarre episodes in the history of Fiskflyg was an accident that happened to Sten Lundkvist in August 1976. Sten was flying SE-GOG, a Cessna U206F seaplane, on a job in Norway when he flew into some electric power cables that crossed the fjord Tysfjord north of Bodø. Normally, flying into cables with an aircraft would be fatal, but not in this case!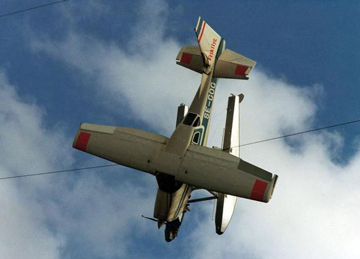 The cables did not break, and luckily the seaplane ended up hanging upside down in the cables some 50 meters above the sea surface. Sten hardly dared to breath, because he believed the seaplane could fall down at any moment. Rescue helicopters were scrambled from Bodø AFB, and miraculously a Sea King helicopter was able to winch up Sten from the trapped seaplane.
The Franklin engine has always been considered the weak point of the Seabee. 215 hp really is too little for the Seabee... the huge cabin easily invites the pilot to overload! During the 1960s and 1970s several engine conversions were developed for the Seabee, all with the intention of increasing the engine power. The most popular has been the installation of a Lycoming GO-480, 295 - 340 hp, engine. In 1978 Fiskflyg modified their first Seabee, SE-BXC, and during the early 1980s GO-480 engines were installed all their flying Seabees. SE-BXC had a Daubenspeck conversion installed, recognizable by the "scoop" air intake cowling. SE-AXB, SE-AXY and SE-BXB all had the Simuflight conversion installed.
In 1980-81 the "second generation" took over the reigns of Fiskflyg, when Sten Grahn, Stellan Grahn and Sören Lundkvist took over from brothers Sten and Martin Lundkvist.
On 1989-02-25 a new "mother" company AB Porjusflyg was founded, officially registered on 1989-04-16. AB Porjusflyg took over the ownership of some of the aircraft.
In 1995 Fiskflyg decided to end their involvement in the fish trading business, after many years of poor margins. After operating Seabees for more than 45 years, Fiskflyg decided in to end their use of Seabees in 1998. SE-AXB was last operated in July 1999 by veterann Seabee pilot Ture Wirén. SE-AXY and SE-BXB had been put into storage in their Porjus hangar the year before. During 2000, SE-AXY and SE-BXB were sold, while SE-AXB stayed as a "hangar queen" until 2005, when she was sold to the happy new owner Ulf Engström of Edsvalla.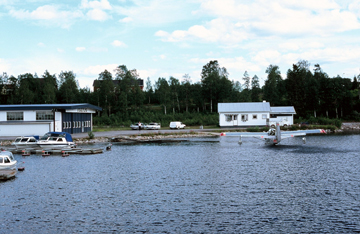 After selling their Seabees and Cessna seaplanes, Fiskflyg AB is now a pure helicopter company. They still give excellent service to the remote communities of "Lappland". And fish is still often part of their payload.
During its 60-year history, the company has adapted to changing times and customer demands. Today boat transports, seaplane service, and fish wholesaling have been left behind and the company has specialized on helicopter transports with its own service stations and three generations of expertise, knowledge of the local region, and numerous stories.
A wide range of services are offered by the Fiskflyg helicopters; passenger service, taxi flights, goods transports, photography, inspections, wildlife and nature conservation, flight related to reindeer herding, fire fighting, external hoisting, mast mounting, etc.
__________
Fiskflyg AB official website:

Sources:

"Porjus - den flygande byn"; Porjus Arkivkommitté 2003
Lars E. Lundin
Minette Eriksson
Paul R. Compton
Svensk Flyghistorisk Förening