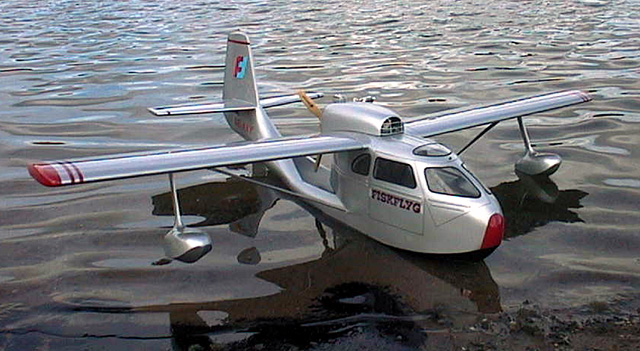 Seabee R/C Model by Christer Bergström, Sweden.
Photo: © Christer Bergström
The Republic Seabee amphibian looks like no other airplane! Her strange and unique features makes her an interesting and challenging object for model makers. A number of Seabee models have been available, either as model kits or as model plans. All model kits and plans known by me are listed below

If you know of Seabee model kits and models plans not listed below, I would very much appreciate more information from you - so that they can be added to the list. I will also be interested in any additional information and photos for the kits and plans already listed. Please e-mail me at:
Bergström Seabee R/C Model

Christer Bergström
Sweden

Seabee scale 1:7:
http://christer.bergstrom.se/rchangar/rcseebee.html

The new bigger Seabee (scale 1:4.5):
http://christer.bergstrom.se/gallery3/

Christer started with seabee plans from RCM. Those he enlarged by 1.41 to make the seabee bigger. The plans from RCM has many dimension faults compared to a 3-view scale drawing made by Björn Karlström, so Christer had to make some modifications to make the model more scale like. The most obvious fault was that the cabin was too short. Engine is an OS Surpass 70 FS. Christer has also started his second Seabee project...! See links to his projects above.
Cleveland Seabee Kit

Cleveland
Model No:
Scale:
USA

More information wanted!
Eko Seabee Kit

EKO
Spain
Kit No: 5015
Scale: 1/150
1960ies

The EKO is a mini-scale polystyrene model kit of the Seabee, with transparent windows. The finish and accuracy of the model is quite poor. The model kit was probably manufactured in the 1960ies.
G&P Seabee/Twin Bee R/C Model Kit

G and P Sales
455 Sunset Drive
Angwin, CA 94508
USA
mailto:bprice@puc.edu
http://www.rcairplane.net/
104"

The G&P Seabee is a R/C scale model featuring a fiberglass fuselage composed of fiberglass mat. The wings are precut out of small bead foam and are designed to be sheeted with 1/16" balsa. The rudder, horizontal stab and elevators are presawn from light weight balsa. The fuel tank is mounted ahead of the engine inside the fiberglass nacelle. The engine cowl and wing floats are also fiberglass. The floats come with all the hardware necessary to mount them. Included in the kit is a clear vacuum formed bubble for the windows. Functional wing lift struts eliminate the necessity of a spar in the wing, allowing a stressed skin design that makes building fast and easy.

This airplane is a very gentle trainer-like plane to fly due to the constant cord high lift airfoil. The Seabee takes off in about 100 ft of water with a .40 engine. The Twin Bee takes off more quickly. The kit includes full size plans, window bubble, a fiberglass fuselage, 2 piece wing foam cores, lift struts, control horns, hinges, screws and bolts, and all necessary wood. The wing mounts, engine firewall, and tank well reinforcements are also included and are presawn. The plans show how to make retractable gear for true amphibian operation. The Twin Bee wing is a separate wing and can be purchased also, so it can be flown as a twin or a single engine plane.
Glencoe Seabee Kit

Glencoe Models
Box 846
Northboro, MA 01532
USA
Plastic Kit No: 05104
Scale: 1/48
1992

The Glencoe Models Seabee plastic kit is made of transparant polystyrene, 23 parts. The molds are the same as for the original Olin Seabee kit. Decals for G-AJNM/AJVO/AJVP, N87xxx, Israeli AF '61'. Box art by John Amendola. Quite rude finish.
Hawk Seabee Kit

Hawk
Model No:
Scale:
USA

This is a balsa wood model kit. It looks like it is a model kit similar to the Minicrafters kit, but with metal and plastic parts. More information wanted!
Lindberg Seabee Kit

Lindberg Products
Skokie, Illinois
USA
Kit No: 503:79
Scale: 1:48
1950ies

The Lindberg Seabee plastic kit is made of grey polystyrene, 27 parts. The molds are the same as for the original Olin Seabee kit and the later Glencoe kit. Decals for NC56874. Box art by Ray Gaedke. Good quality and finish.
Mach Seabee Kit

Mach 2
17, rue Emile Combes
F-78800 Houilles
France
Kit No: GP. 027
Scale: 1/72
2001

The March 2 Seabee plastic kit is made of cream polystyrene, approximately 40 parts. Decals for N6097K, F-OABR, Israeli AF '61'. Box art by Alaxandre. Poor finish.
Minicrafters Seabee Kit

Minicrafters of Baltimore
USA
Kit No: M-4
Scale: 1:48
1945

The Minicrafters of Baltimore 'Solid Models' Republic Seabee is a prefabricated balsa scale display model, consisting of 10+ wood/balsa parts. The kit includes a scale drawing and templates for the carving and sanding of the model. The model is to be painted.
Olin Seabee Kit

Olin
USA
Kit No: ?
Scale: 1/48
1940ies

The Olin Seabee plastic kit is made of polysterene. Original molds for the Lindberg and Glencoe kits. More information wanted!
Pegaso Seabee Kit

Pegaso
Mexico?
Kit No: ?
Scale: 1/48

The Pegaso Seabee plastic kit is made of polysterene. Probably made from the Olin/Lindberg molds. The Pegaso model includes a diorama set. More information wanted!
Robbe Seabee RC Model

Robbe Modellsport
Germany
Art. No: 3294
Scale: ?

The Robbe "Seabee" is a handy sized seaplane, moulded in light and strong ""Flexit plus" foam in CNC machined moulds (all made in Germany). The model is capable of water take-off as well as being hand launched. In just a few metres, the model gets "on the step" and takes off safely and reliably from water. The pusher prop gives excellent maneuverability on water. It is able to take off and land on very small lakes and rivers, therefore, the Seabee is a "cute" plane for the whole family on holiday. Also the Seabee can be easily hand launched. Due to the low landing speed, the landing can be made on every small grass field. For this, the floats are easily removable. Unlike the original, the small Seabee can fly simple aerobatics, such as loops, rolls and stall-turns. The Robbe Seabee is a fun-flyer for the experienced model flyer. Thanks to modern construction of light foam, it is light, pretty and unsinkable.

Kit contents:

Flexit plus foam parts for the one-piece fuselage, wings, tailplane, floats and cabin
Square section anodised alloy fuselage strengtheneing and motor mount
Roxxy BL-Outrunner No. 4953 and BL-Controller No. 8638
9 piece epoxy fittings pack- = float fixings, control horns etc.
8 Mini-Magnetse to secure canopy and cowling
6 injection moulded plastic parts for wing and float attachment
Carbon profiles to reinforce wings and tailplane
Stainless steel Bowden cables as well as various amall partse
BELI-ZELL solvent free PU-Universal-Adhesive
Decal set
Comprehensive, illustrated step-by step instructions
Kenn Anderson's Seabee

Mr. Kenneth E. Anderson of Lake In The Hills, Illinois, built this fantastic scratch built Republic Seabee model from Paul Matt's plans. 74 years old, Kenn built all from scratch except the main wheels which were modified to fit on the Seabee. Using carbon paper, card board and the Matt plans, Kenn made 61 templates. Kenn continues;

The pontoons are cherry wood, the wings base 'linden' wood, the tail parts poplar. The body, I do not know. My wife had bought the wood 25 years ago, but an interesting coincidence; all three dimensions were within 1/16". The brass parts are made from 5/16" and 3/16" round stock plus .025 flat stock.

Tools used: Drill press, bench grinder, belt sander laid on its side, hand tools and lots of sandpaper.

The wings and tail assembly are dolled for strength. Other parts are inset 3/16". The finish is "Minwax" stain and satin varnish rubbed with 0000 steel wool. The brass parts are lacquered.

The effort that required the most thought was the sequence of events. The last part shaped was the keel. Then assembly, of course. Plastic wood or filler were not used.

The degrees of offset of the tail assembly were ignored for symmetry, but the 2 degree of wing dehedral are correct. 2 degrees of the propeller; 'close'.

Three of the four tie downs are of wood, the nose one of brass. The trim tab of the wing would not stay glued, thus no tab. The wheels retract.

I had outlined the doors with a fine permanent marker, but I felt it detracted so I removed them with alcohol. I did, however, use brass handles.

[Kenn Anderson - 14 October 2004]
Seabee Model Photos

Republic Seabee mahogany model by All Wood Wings

Republic Seabee mahogany model by All Wood Wings

Handcrafted Seabee mahogany model by Griffin AeroSpace.

Unknown model of SE-AXM

Seabee model by
Mr. Tom Sandor

Scratch-built R/C model by Mr. Ed Milburn.

Scratch-built wood model by Mr. Ross Hand, CT, USA.

Mach 1/72 Seabee Plastic Model.

Mach 1/72 Seabee Plastic Model.

Mach 1/72 Seabee Plastic Model.

Model of NC6695K (c/n 978) of S.L.H.C.F. - Indochina
built by Mr. Tailly Thierry, France.

Model of NC6695K (c/n 978) of S.L.H.C.F. - Indochina
built by Mr. Tailly Thierry, France.

Model of NC6695K (c/n 978) of S.L.H.C.F. - Indochina
built by Mr. Tailly Thierry, France.

Scratch-built electric R/C model by 'Cathode'.

Seabee 'lookalike' R/C model of unknown origin.

Pegaso Republic Seabee model kit.

Robbe Republic Seabee
RC model kit.

Nikko Seabee tin toy airplane 1950s.

Seabee wood model of unknown make.