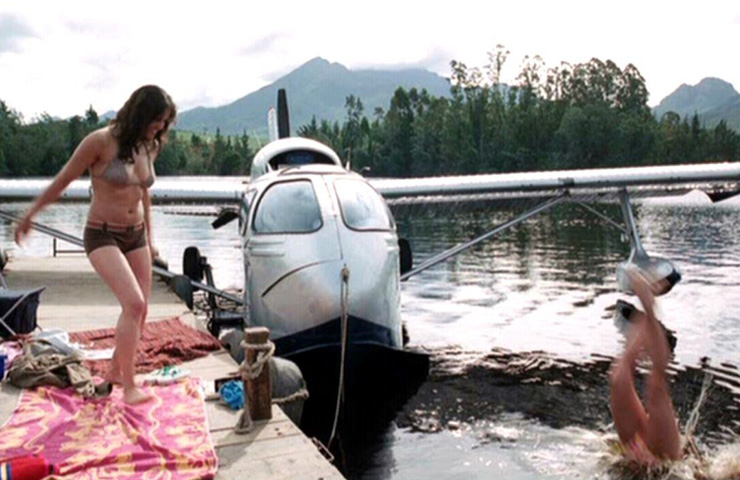 This web page tries to list all TV movies and cinema movies in which Republic Seabee amphibians have appeared. If you can help with additional information, corrections, photos and information on movies missing from this list, please contact Steinar Saevdal at e-mail below:
"Roadblock" (1951)
| | |
| --- | --- |
| | Seabee? |
| Production Team | |
| Director: | Harold Daniels |
| Producer | Lewis J. Rachmil |
| Cinematography: | Nicholas Musuraca |
| Editing: | Robert Golden |
| | |
| Cast | |
| Charles McGraw | Joe Peters |
| Joan Dixon | Diane |
| Milburn Stone | Egan |
| Lowell Gilmore | Kendall Webb |
| Louis Jean Heydt | Harry Miller |
| Richard Irving | Partos, the pilot |
| Art Direction: | Albert S. D'Agostion & Walter E. Keller |
| Music: | Paul Sawell |
| Set Designer: | Jack Mills |
Story

Insurance investigator Joe Peters falls for a bad girl, Diane (Joan Dixon). The couple meet in an airport and wind up sharing a hotel room in Kansas after their plane is forced to make an emergency landing. She wants Joe but loves the finer things in life, like furs and jewelry, more. Peters can't afford things like that on his small salary, so the normally honest Peters setup a heist in an attempt to finance a dream life with Diane. After the crime, an elaborate railway mail car robbery, things begin to go awry and love sick Peters who continues to try to cover up his actions.

The hard-edged clipped dialogue between the two lead actors is typical of film noir. The following is an example early in the film when Joe and Diane first get to know each other:

"What makes you the way you are?" Joe
"What makes anybody the way they are?" Diane
"You tell me." Joe
"Where they got started maybe. I had a lot of jobs - modeling, clerking, secretarial work. I tried hard but it was no go." Diane
"Does that make a chiseler out of you? Must have been somethingelse." Joe
"Whenever I got a job there was always a man who wasn't interested in my working ability." Diane
"I understand that." Joe
"Really? Coming from you that's a compliment." Diane

The movie features an approach and water landing of a Seabee; The guy in the movie says - "The gang of train robbers had made there get away in an amphibian aircraft that had left marks in the grass from the hull and the wingtip floats." - "That would have to be a Republic Seabee." - "That's a four place ship, six if you had to."
"Help' (1965)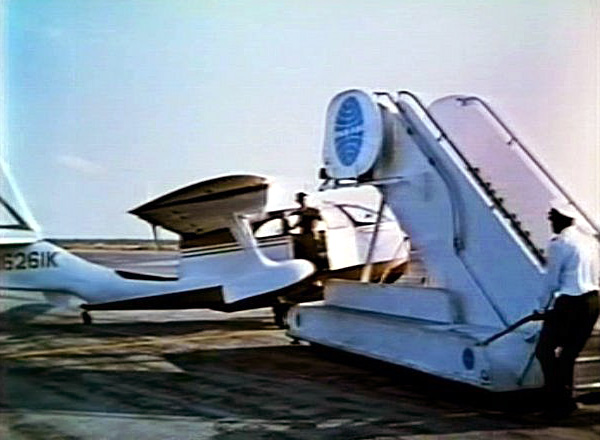 Seabee N6261K in the Beatles movie "Help" from 1965
| | |
| --- | --- |
| Production Team | |
| Directed by | Richar Lester |
| Written by | Mark Behm (story) |
| Written by | Charles Wood (screenplay) |
| Release date | 25 August 1965 (USA) |
| | |
| Cast | |
| John Lennon | The Beatles |
| Paul McCartney | The Beatles |
| George Harrison | The Beatles |
| Ringo Starr | The Beatles |
| Leo McKern | Clang |
| Eleanro Bron | Ahme |
| Victor Spinetti | Prof. Foot |
| Roy Kinnear | Algernon |
| John Bluthal | Bhuta |
| Patrick Cargill | Superintendent |
| Alfie Bass | Doorman |
| Warren Mitchell | Abdul |
| Peter Copley | Jeweller |
| Bruce Lacey | Lawnmower |
Story

This movie is not what it seems. Ringo, having accepted a ring from a fan, unwittingly becomes the target sacrifice of an eastern cult. Attempting to rid themselves of this deadly jewelry, the Fab Four encounter Mad Scientists, Scotland Yard, the entire compliment of the Nassau police force and one wayward long distance swimmer. As the plot is only a device upon which a great deal of happy nonsense is draped, its actually the least important part of the film. I can say no more.

An exotic religious cult lead by a pompous leader Clang (Leo McKern) in the middle of its annual sacrificing of a young nymph to the god Kieli, realize that the girl is not wearing the sacrificial ring, and lo and behold it's on the finger of Ringo Starr. A mission is put into place immediately to recover the ring, or at least to sacrifice the person wearing it so that the god awaiting the sacrifice will not be insulted. Thus begins the exploits of Help in which a crazed group bent on satiating its god's sacrificial hunger stalks John, Paul, George and Ringo with various sharp instruments. The main goal of the Beatles is to remove the ring from Ringo's finger and return it to the cult, thus avoiding death. One of the members of the cult, Ahme (Eleanor Bron) is attracted to the Fab Four, Paul in particular, and works to sabotage the efforts of the religious cult. Time after time the cult attempts to capture Ringo only to be thwarted either by the band's elusive nature or by the cult's own inept efforts. When the Fab Four seeks help from a delusional scientist, Professor Foot (Victor Spinetti), he desires the ring because its power will give him power to "rule the world", and escape the bane of government grants to conduct his research. Moving on to Scotland Yard a police inspector (Patrick Cargill) filled with his own importance sets a trap for the cult, but they manage to capture Ringo anyway and establish a make-shift beach side sacrificial area with the help of their own country's militia. As the Fab Four flee from England to Austria, to the Bahamas there's always time for a musical number.
N87498
Photo: © courtesy of Jean-Louis Bleneau
'Wings of Fire' (1967)
| | |
| --- | --- |
| Seabee | N87498 (s/n 50). |
| Production Team | |
| Directed by | David C. Rich |
| Written by | Stirling Silliphant |
| Released | 1967 |
| Length | 120 mins |
| | |
| Cast | |
| Suzanne Pleshette | Kitty Sanborn |
| James Farentino | Taff Malloy |
| Lloyd Nolan | Max Clarity |
| Juliet Mills | Lisa |
| Jeremy Slate | Hal Random |
| Ralph Bellamy | Doug Sanborn |
| Gary Crosby (I) | Scott |
| Jaime Sánchez (I) | Luis Passos |
Story

Mr. Joseph J. Glosek of Mesa, Arizona, kindly sent sent this information from his memory (22 December 2004):

I was doing a search on the possible availably of the movie "Wings of Fire" when I came across your site. This is a movie that I would dearly love to get a copy of as I remember it being a fairly good aviation film. Not the best, as the airplanes involved are basically backdrop for the love story, but it does have airplanes so it can't be all bad! You stated that you were looking for more info about the story...here goes from over 20 years, so forgive me if I am missing some details

Max owns an FBO along with an assortment of very interesting aircraft such as the Seabee, a P-51 Mustang, and an F8F Bearcat. (Both the Bearcat and Mustang are early Reno Racers with no mods, but I can't remember who owned them). Kitty is his daughter and of course she is a pilot. Taff is a returning Marine Aviator Hero, who seems to have problems related to his war experiences (he doesn't want to fly anymore). In addition he brings his new bride along, Lisa (which creates problems for Kitty as she is still in love with Taff). Taff rents the Seabee and a pilot, to fly his new bride to an island for their honeymoon, but while on the island she is hurt (and later dies). Kitty moves in on Taff thinking he will now go for her, but he rejects her advances. Feeling like her world has ended, she takes the Mustang up in an attempt to kill herself (and a perfectly good Mustang!!). Taff overcomes his "fear?" of flying and takes the Bearcat up to talk Kitty down (which he does, thankfully for the Mustang).

That's all I can remember about the NBC TV-movie that aired in 1967. Hope it helps you.......

By the way, if you ever find a copy of the movie, tape, DVD, whatever, let me know as I would like a copy.

Joseph J. Glosek
Mesa, AZ, USA
E-mail: wingcar426(at)cox.net

PS! I am a commercial licenced pilot with multi engine, instrument and glider ratings. (10 hours away from my rotor craft rating). I would like to get my sea plane rating as well in the future.

Update 2017-11-16

The Seabee used in this TV-movie probably was N87498 (s/n 50). On 1967-10-12, N87498 was purchased by Universal Television (a Division of Universal City Studios Inc.); Universal City, CA. A new C of R was never issued. However, N87498 was cancelled from FAA Registry on 1967-11-02. According to Universal letter dated 1967-11-01; "The motion picture use of said aircraft involved the total demolition of the plane, including fuselage and engine. Would you please therefore cancel the registration of said plane." (Thanks to Barry Collman!).
"Haunts of the Very Rich' (1972)
| | |
| --- | --- |
| | Seabee? |
| Production Team | |
| Directed by | Paul Wendkos |
| Produced by | Lillian Gallo |
| Written by | T.K. Brown III |
| Written by | William Wood |
| Music by | Dominic Frontiere |
| Director of Photography | Ben Colman |
| | |
| Cast | |
| Lloyd Bridges | Dave Woodrough |
| Cloris Leachman | Ellen Blunt |
| Edward Asner | Albert Hunsicker |
| Anne Francis | Annette Larrier |
| Tony Bill | Lyle |
| Donna Mills | Laurie |
| Robert Reed | Reverend John Fellows |
| Moses Gunn | Seacrist |
| Phyllis Hill | Rita |
| Michael Lembeck | Delmonico |
| Susan Foster | Miss Upton |
| Beverly Gill | Miss Bick |
| Todd Martin | Harris |
| Sammy Jackson | Ham Radio Operator |
Story

Seven people end up in a remote tropical resort after receiving mysterious invitations. The paradise turns into a nightmare when a severe storm cuts them off from the outside world leaving the guests stranded to face the elements and a series of disasters.

A group of people, all of whom, we can only assume, are Very Rich, are on a plane flying to an island resort. When they land, they are greeted by a mysterious black man (Moses Gunn), and the plot thickens. Cloris Leachman gets a makeover from a mysterious black woman (all the mysterious characters in this film are either black or "native") in a scene laden with homoerotic undertones, and Lloyd Bridges falls in love with her. We come to find out that Robert Reed (of Brady Bunch fame) is a minister tormented by his own conflicted spirituality; Anne Francis is an unhappy housewife strung out on prescription uppers and downers; and Ed Asner has a very, very hairy back (this is actually not critical to plot development, but be forewarned). We also come to find out that just before setting off on their journey, each of the "guests" had narrowly escaped death -- or had they? Lots of great cheesy music, bad acting, and unfathomable plot twists make this early 70s thriller a real joy for conoisseurs of bad films.
"Lady Ice" (1973)
| | |
| --- | --- |
| | |
| Cast | |
| Donald Sutherland | Andy Hammon |
| Jennifer O'Neill | Paula Booth |
| Robert Duvall | Ford Pierce |
| Patrick Magee | Paul Booth |
| Jon Cypher | Eddie Stell |
| Eric Braeden | Peter Brinker |
| Buffy Dee | Tony Lacava |
| Perry Lopez | Carlos |
| Charles J. Swepeniser | Robber #1 |
| Edward Biagianti | Robber #2 |
| Zvee Scooler | Jeweler |
| Sol Frieder | Jeweler |
| Berenice Clayre | Head Matron |
Story

In Chicago, a gang of jewel thieves, led by the beautiful Paula Booth, steals $3 million in diamonds. So insurance detective Andy Hammond sets out to capture the criminals and the goods. The trail leads to Miami, where Paula's father, a dealer of "hot" gems, resides. But when Andy catches up with sexy Paula, diamonds aren't the only things he desires.

Seabee is shown taxiing. Then an approach and a water landing of a Seabee.
"The Man With the Golden Gun" (1974)
Production Team
Director:
Guy Hamilton
Producer:
Albert R. Broccoli and Harry Saltzman
Script:
Richard Maibaum and Tom Mankiewicz
(From the novel by Ian Fleming).
Cinematography:
Ted Moore and Oswald Morris
Production Design:
Peter Murton
Special Effects:
John Stears
Editing:
Raymond Poulton and John Shirley
Art Direction:
John Graysmark and Peter Lamont
Make-Up Department:
Paul Engelen and Mike Jones
Sound Department:
Ken Barker, Charles Crafford, Gordon Everett, Christopher Lancaster and Jim Shields
Music:
John Barry
Cast
Roger Moore
James Bond
Christopher Lee
Francisco Scaramanga
Britt Ekland
Mary Goodnight
Maud Adams
Andrea Anders
Hervé Villechaize
Nick Nack
Clifton James
J.W. Pepper
Richard Loo
Hai Fat
Soon-Tek Oh
Hip
Marc Lawrence
Rodney
Bernard Lee
M
Lois Maxwell
Miss Moneypenny
Desmond Llewelyn
Q
Marne Maitland
Lazar
James Cossins
Colthorpe
Story

A golden bullet arrives in London, with 007's number engraved on it, the trademark of Francisco Scaramanga (Christopher Lee), an assassin who charges $1 million per victim. Bond (Roger Moore) is useless to M on his current assignment, searching for a missing solar-engineering expert, until this situation is resolved, so he goes to Beirut, where 002 was apparently shot by Scaramanga in 1969. With some difficulty, he obtains the bullet, and it's analyzed by Q Branch. The gold/nickel content indicates it's probably been made by Lazar, a gunsmith based in Macao.

Bond persuades Lazar to tell him how Scaramanga collects his merchandise, and follows statuesque Miss Anders from a casino in Macao across to Hong Kong, where he meets with fellow agent Mary Goodnight (Britt Ekland), Further not so gentle persuasion of Anders gains the information that Scaramanga will be at the Bottoms Up club. He is - but Bond isn't the target. Gibson, the solar-engineering expert, is, and Scaramanga's midget henchman, Nick Nack, relieves the corpse of the solex, the key piece of the system. Bond is arrested by Lieutenant Hip and taken across Hong Kong Harbour, where he escapes on to the wreck of the Queen Elizabeth, which turns out to be a naval intelligence base. There, M assigns Goodnight to act as liaison between Bond and Hip while they investigate a new lead: Hai Fat, a wealthy Thai businessman, who could have afforded Scaramanga's fee.

Gambling that Hai Fat and Scaramanga won't have met, Bond, masquerading as the assassin, visits Hai Fat, and gets an invitation to dinner. Unfortunately the two are well acquainted and a trap is laid for Bond - he wakes in a karate school from which he escapes with Hip and his two karate kicking nieces' help. Hai Fat decides he will lie low, but Scaramanga kills Win. Miss Anders reveals that she sent the bullet to Bond: 007 is the only person Scaramanga fears. He even has a model of him in his Fun House. She agrees to get the Solex and Bond will then deal with the assassin. They arrange to meet at a boxing tournament, but when Bond arrives she's already dead. Scaramanga warns Bond off, but Bond finds the Solex and gets it to Goodnight, who then follows Nick Nack. Unfortunately, Scaramanga is following her and she is captured.

Bond gives chase, accompanied inadvertently by Sheriff J.W. Pepper, but Scaramanga's car becomes a plane and he flies off. Q's homing device in Goodnight's dress works, showing she's in Red Chinese waters. Unofficially, Bond strays into their territory, and arrives on Scaramanga's island flying a Republic Seabee amphibian (N87545). Scaramanga shows off his solar complex, complete with laser, with which he destroys Bond's plane.

He then challenges Bond to a duel: his golden gun against Bond's Walther PPK. Bond accepts, and Nick Nack appears to help him. Eventually Bond replaces his own mannequin and shoots a very surprised Scaramanga. Goodnight, meanwhile, has dealt with Scaramanga's maintenance man, although, by tipping him in a vat of liquid helium, she's ensured that the place will explode. Bond retrieves the Solex; he and Goodnight steal Scaramanga's junk and, after dealing with Nick Nack, who's stowed away, they take a slow boat from China.
The Republic Seabee Scenes

The Republic Seabee action was filmed at and off the beautiful island Koh Khao Phing Kan in the Phang Nga province in Thailand. This island is today often referred to as the 'James Bond Island' by tourist travel agents for Thailand. The Seabee N87545 was owned by Eon Production, and was probably shipped by ship from USA to Thailand for "The Man With The Golden Gun" film production.

In the first Seabee scene, the James Bond is flying low over a beautiful scenery of small islands. The Seabee is flown between two close islands when Bond prepares for landing. In the landing scene the Seabee is filmed from slightly above. In the next scene the Seabee is seen step taxied towards a beach, but now the left wing float is suddenly missing! It has been reported that the Seabee had an accident on 14 April 1974, when colliding with a rock during the filming for the movie. Probably the wing float got damaged and had to be removed for the last Seabee scenes.

Without the left wing float, it would be very difficult for the pilot the take down the wheels to taxi on the wheels up on the beach before the left wing would drop into the water. This is probably why the Seabee is step taxied on the hull all the way up on the beach. This scene probably was not included in the original script. However, this change makes the Seabee scene even more spectacular!

The Seabee crew only got a few hours to take out instruments and other Seabee goodies, before the Seabee was blown up into pieces - to all Seabee enthusiasts' despair...
"Supernova' (2005)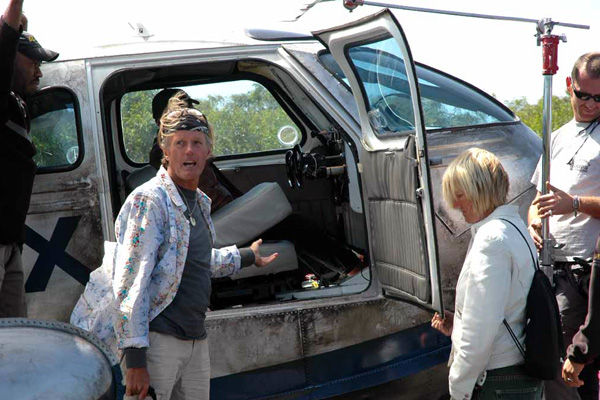 Peter Fonda in front of Seabee ZS-ORX in South Africa. (Photo: © Mark Becker)
Story

A supernova is threatening to exterminate life on Earth...
"The Breed' (2006)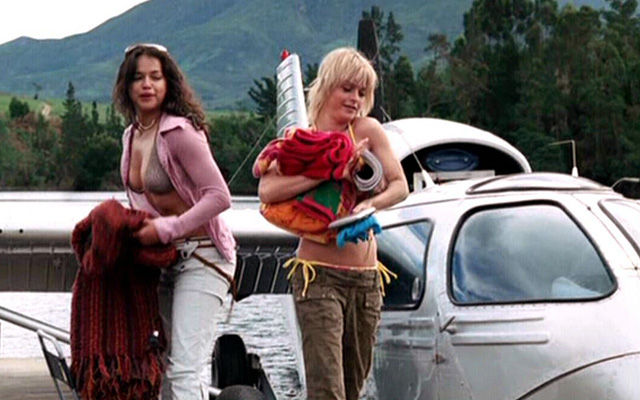 Michelle Rodriquez and Taryn Manning in front of ZS-ORX, South Africa.
| | |
| --- | --- |
| Production Team | |
| Directed by | |
| Produced by | |
| Written by | |
| Written by | |
| Music by | |
| Director of Photography | |
| | |
| Cast | |
| Michelle Rodriguez | Nicki |
| Oliver Hudson | John |
| | |
| | |
| | |
| | |
| | |
| | |
Story

When the bad boy John inherits an isolated house in an island, he invites his brother and student of veterinary Matt and his girlfriend Nikki together with their common friends Sara and Noah to fly with him in his hydroplane and spend a couple of days having good time in the place. Later Sara is attacked by a dog and they recall that in the other side of the island there was a facility for training dogs that had been shutdown to avoid a rabies outbreak. While walking through the woods, they find a man called Luke, who sailed with his girlfriend Jenny to the island, covered of blood and Luke is killed by a pack of hounds. The group runs to the house and the animals put the place under siege, and they try to find a means of escape. When the survivors reach the compound, they disclose that the dogs have been genetically redesigned to become a breed of killers.